A Tribe Called Red – Nation II Nation (Tribal Spirit)
A ball of energy waiting, but sometimes failing, to explode on the dance floor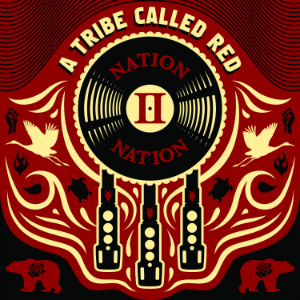 It's easy to see why
Nation II Nation
was shortlisted for the Polaris Music prize. Its strength is in the distinctive and experimental tribal sound that sets it apart from its peers. And when it works, the fusion of indigenous and modern dance is fantastic; it becomes an onslaught of marauding vocals and drums smashed together with techno beats and synths straight from the dance floor. However, too many times it feels like an added punch is missing. There's lots of energy building but not the explosion that they are certainly capable of, especially when live.
The second track on the album, 'NDN Stakes', featuring
Sitting Bear
, is a fine example of when the music rises and explodes into wild energy. The mash up of beats and crashes easily melts together with the tribal vocals and creates the beating heart of Nation II Nation.
For a moment or two,
A Tribe Called Red
are able to show that making good dance music is not always about searching for "the drop" that makes everyone go mental. 'PBC', which features
Sheldon Sundon
, uses a bubbling vocal and siren whistles from the sample stash of
Boards of Canada
to create an atmospheric leap; simply quality musicianship that develops a chillout track. A Tribe Called Red could even be thinking along the same lines as the iconic and famously enigmatic producers, as it's possible they watched the same National Film Board of Canada programs when they were growing up.
After a straight listen through Nation II Nation, the intensity with which the tribal sounds are used can become more than just an onslaught and, in the end, a bit too much. To really appreciate why this album is put together as it is, it is best to see A Tribe Called Red live. The vocals are cut up and smashed together with techno beats, the tribal drums layered on thick and the punch that is sometimes missing from the album is well and truly present. There is also a certain lack of variation on Nation II Nation – when the sirens of 'PBC' arrive, it is a welcome change of pace from the marauding vocals – something which is definitely added to their concerts. A live performance helps this album make more sense.
When creating an experiment worthy of the Polaris Prize Nomination, there are going to be ups and downs. So, when Nation II Nation is good, it's fantastic and original; when it isn't, we're left feeling flat and waiting for that extra level.