A Giant Dog – Pile (Merge)
Traditional fun rock in the face of modernity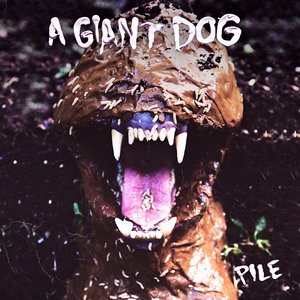 It's little surprise that
A Giant Dog
are building themselves a reputation for a raucous live show. The music they play is designed to be pumped out at a furious volume. It's loud, packed with sound and the kind of fun that rock stars used to have when they dressed up in silly costumes and set stuff on fire on stage. With dual vocals from Sabrina Ellis and Andrew Cashen this is an album for lovers of classic rock and back combed hair metal.
This is the Texan band's first foray into the British Isles and if the press release is anything to go by they'll be bringing a live set where "everyone leaves drenched in beer and bodily fluids." Let's do it! Rock and roll, bitches.
Aside from the promise of a belting live show, complete with strutting, glam outfits and stage diving, there's also the archetypal rock soundtrack from 'Seventeen' – "
standing in my room with a hard on like I'm seventeen
" - and 'Sleep when I'm dead' – "
I can sleep when I am dead/All my friends said I look tired
" to give a couple of examples. There's no great genius in these lyrics, but that's not something A Giant Dog are looking for. It's fun. And there's no pretence about it. It's mainstream and should be as ridiculous a hoot as the Darkness bounding about the stage in summer time.
That's not to say there's a lack of musicianship. Satisfyingly, there's hints of Marissa Paternoster from Screaming Females in not only the energy, but the sentiment of solo hitchhike love. And scripted brass bands fill in any moments of silence with eclectic parumps and rasps. To add to this there is a nice up and down flow through the journey of the album going from the speed of 'Rock & Roll' stoner, bedroom innocence of Moldy Peaches on 'I wanna get high'.
Giving an impression of Pile and A Giant Dog is the latest single 'Sex and Drugs'. This is call and return vocals and the sound of Thin Lizzy with a video that traps the band in a small snowglobe. A retro blast in itself. Twinkles and tinsel aplomb. And right at the end some girl picks up the globe and can't stop smiling. A lot like the reaction of many a rock fan to this offering. No pretence, just traditional fun rock in the face of modernity.