Opal Onyx – Delta Sands (Tin Angel)
NYC duo combine electronica, strings and dark lyricism on impressive debut LP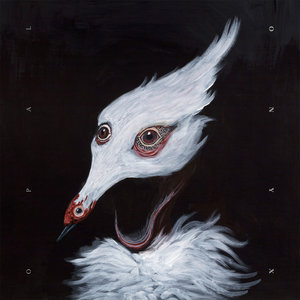 A duo consisting of Sarah Nowicki (vocals, guitar, sampler) and Mathew Robinson (cello, synth, lap steel)
Opal Onyx
eschew the detatched cool of fellow New Yorkers on their doomy synth and cello swept debut.
Led by Norwicki's remarkable voice, an intoxicating combination of PJ Harvey and the stentorian vocals of Jefferson Airplane leader Grace Slick,
Delta Sands
is awash with gloomy portents successfully plotting a course between ambient textures, folk music and twisted art rock.
Largely forgoing beats aside from the occasional percussive clatter, opener 'Black and Crimson' fades into view with an almost industrial rhythm provided by staccato guitar chops suggesting second album-era Portishead.
'Evaun' gathers like thunderclouds before breaking up into a scree of electronic noise towards the close while the succeeding 'Iron Age' swims out of its electronic undertow into a hallucinatory section that builds in intensity before gradually falling away.
Elsewhere, 'Fruit Of Her Loins' consisting solely of Nowicki's hair-raising vocal and Robinson's alternately brightly-lit and dark synth soundscapes strongly indicates the pair would be well suited to working with director David Fincher if Trent Reznor resigns his tenure.
The longer the album progresses, the further into traditional forms the duo travel, the blues-inspired 'The Devil' title and all calls to mind PJ Harvey's late 1990s material while 'Arrow's Wing' led by an acoustic strum and flurries of piano is a track seemingly steeped in Southern Gothic.
In thrall to the same dark Romanticism dusky folk tune 'Bright Red Canyons' last but one consisting solely of Nowicki's where the sparse musical backing consists of acoustic arpeggio and lone cello accompaniment.
A highly accomplished debut platter, the album title reflects like the band moniker only up to a point, these semi-precious stones on this evidence look likely to turn into rough diamonds over time.