2:54 – The Other I (Bella Union)
Alt. rock duo return boasting increased sound palette on frequently excellent second LP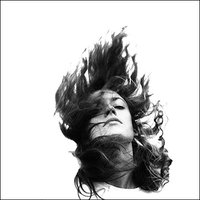 Following the spiky post-punk rush of their eponymous 2012 debut, Bristolian siblings Colette and Hannah Thurlow return on a new record label (storied indie outfit Bella Union) and a more expansive sound. Building on the foundations laid down by the first LP a newfound emphasis on textures sees
2:54
bloom into if not Technicolor then certainly rich, deep gothic monochrome.
With tracks now less reliant on fuzzy basslines to power them forwards, a broader instrumental palette with cello and piano adds drama to proceedings, the multiple shifts in tempo ensuring greater depth, repeated listens revealing the intricacy of the duo's arrangements.
While traces of PJ Harvey still remain in Collette's pining vocals (long standing Polly Jean collaborator Rob Ellis produced
2:54
) the decision to self-produce
The Other I
alongside Radiohead/Everything Everything remixer James Rutledge is a demonstrable success.
Lead single 'Orion' begins proceedings in commanding fashion, a combination of tribal drumming and flurries of synth and guitar figures that adroitly switches between waltz time and straight ahead indie rock, booms along like the theme to a long-lost 1980s teen romance epic. Recent 45 'Blindfold' skulking along like a sulkier version of Haim (apologies, the comparisons to the Californian trio are overdone) is equally impressive, while the heady rush of swirling waltz 'In the Mirror' anchored by sumptuous ebbing guitar chords places the group alongside Mancunian texturalists MONEY.
'No Better Prize' a whirlpool of twinkling arpeggios and gothic drama brilliantly evokes the sadly overlooked guitar pop of The Sundays, alternating between guttural rock thrash and the reflective chorus refrain.
'Crest', the most strident cut here, proves the band can create a formidable garage rock clamour while the haunting 'Tender Shoots' proves that ideas are certainly not in short supply, the repeated vocal harmonies, forming a vast halo of echo that creates the effect of what the band sound might sound like if they went unplugged during a potholing expedition. 'The Monaco' meanwhile skipping along on a light limbed drum tattoo and a dark undertow of brooding cello screams out to be the next single.
The arrangements can occasionally take precedence to the songs however with 'Sleepwalker', emerging as a dramatic production number in search of a solid tune to drape itself around and 'South' anchored by a tricksy drum pattern and cello drone are both impressive showcases for the duo's dexterous arrangements that lack strong enough hooks to firmly imprint themselves.
Despite the second half of the LP suffering a slight decline in quality, intriguing concluding track 'Raptor' draws in the slack and possibly signposts where the band are headed next however as a driving bassline morphs into something approaching darkly compelling EDM before departing in a wave of elegiac synths.