The Fanclub - Madman / Bitter Boys and Graceless Girls (Underdogs)
New single from The Fanclub with added string section.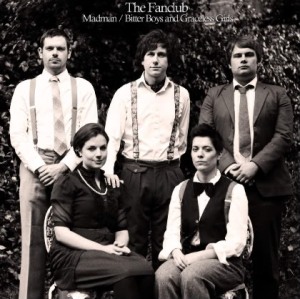 With
Madman
, the band has taken a 'wall-of-sound' approach giving an essentially harmonically simple song an air of subtle complexity and sophistication. It's quite refreshing to hear these kind of nuances in what is essentially an Indie record. My favorite things about this track are the way the clean and dirty guitars offset each other creating a huge sound and also how the track builds in intensity towards the end pleading the case for organic music over programmed parts. Then just as I got stuck into it, the track came to an abrupt finish at just under three minutes, although I couldn't work out if it was short and sweet or just too short, either way it's an audacious way to close a track.
Bitter Boys And Graceless Girls
, a contrast to
Madman
and curiously enough also featured in channel four's Hollyoaks. It's a slightly melancholic yet gentler track with the string section adding to the tension, it also sounds like there was a healthy nod to Jeff Buckley when arranging this one (and that's not a bad thing at all).
It's not very often that a two-track offering can hint at the diversity of an act's output, but that also means things can run the risk of sounding too far apart instead of a healthy contrast. Luckily The Fanclub's release is an example of the latter and has whetted my appetite for what else lies between their two poles.
Madman
coupled with
Bitter Boys And Graceless Girls
was recorded with Greg Haver who's previously produced work from Manic Street Preachers and Super Furry Animals.