WRONG Festival Returns to Liverpool
The 'festival for the freakscene' returns for second year with Future of the Left headlining, plus full line-up details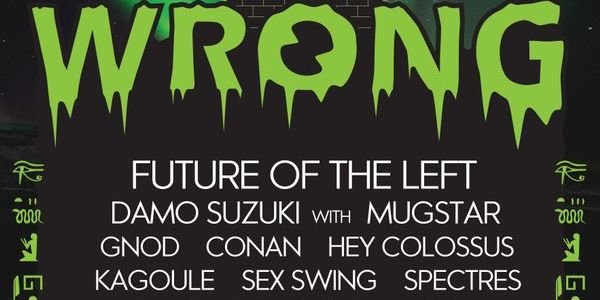 Returning following the success of 2017s
inaugural event
,
WRONG Festival
returns to Liverpool on Saturday 28th of April. Dubbed the 'festival for the freakscene', the independent event pulls together strands of alt. rock, punk, metal, prog psych and every category in between,
With over thirty bands set to feature across a troika of venues in the city's burgeoning North Docks including The Invisible Wind Factory, North Shore Troubadour and Drop the Dumbulls are pressed into service (see full line up and running times below).
With proceedings stretching from 1pm til 4am, the line-up is headlined by cult Cardiff alt. rock crew
Future of the Left
. Appearing directly before them on the main stage of The Invisible Wind Factory is
Damo Suzuki
, with Liverpool prog/psych outfit
Mugstar
acting as 'soundcarriers' for the Can legend.
Organized by Liverpool based label Loner Noise, a score of Merseyside-based acts are set to appear including big hitting prog outfit
Sex Swing
and excellent grunge/alt. rock trio
Elevant
.
Spanning several genres Sonic Cathedral signed noise rock outfit
Spectres
, ultra-heavy Salfordian prog-metal crew
Gnod
, Leeds avant-gardists
Bilge Pump
and Bristolian punks
The St. Pierre Snake Invasion
all showcase WRONG's wide-ranging musical remit.
Saturday 28th April – Various Venues @ Liverpool Docklands
Full line up and stage times:
Invisible Wind Factory Stage:
Bisch Nadar – 13:00 – 13:30
THANK – 14:00 – 14:30
Nasty Little Lonely – 15:00 – 15:30
Death & The Penguin – 16:00 – 16:30
Gravves – 17:00 – 17:30
Elevant – 18:00 – 18:30
Kagoule – 19:00 – 19:45
GNOD – 20:15 – 21:00
Damo Suzuki & Mugstar – 21:30 – 22:30
Future of The Left – 23:00 – 00:00
North Shore Troubadour Stage:
Swearwolves – 13:30 – 14:00
Tokyo Taboo – 14:30 – 15:00
Salt The Snail vs Bleach Sweets – 15:30 – 16:15
Buried Sleeper – 16:45 – 17:15
Kapil Seshasayee – 17:45 – 18:15
OHMNS – 18:45 – 19:15
SPQR – 19:45 – 20:15
Hey Colossus – 20:45 – 21:45
Grey Hairs – 22:15 – 22:45
Bilge Pump - 23:15 – 23:45
Sex Swing – 00:15 – 01:00
CONAN – 01:30 – 02:15
Lewis O'Neill DJ – 02:15 – 04:00
Drop The Dumbulls Stage:
Psyblings – 13:15 – 13:45
Patchwork Guilt – 14:15 – 14:45
Lonesaw - 15:15 – 15:45
SONS – 16:15 – 16:45
Lucy Leave – 17:15 – 17:45
Alpha Maid – 18:15 – 18:45
Black Pudding – 19:15 – 19:45
Table Scraps – 20:15 – 20:45
IRK – 21:15 – 21:45
Alpha Male Tea Party – 22:15 – 23:00
SPECTRES – 23:30 – 00:15
The St Pierre Snake Invasion – 00:45 – 01:30
Tickets are available here
For more details visit here