Preview: Bushstock Festival 2017
Full schedule and stage times announced for the Communion Records led festival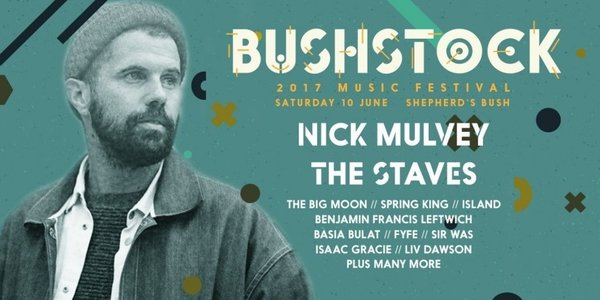 The summer is finally upon us. So how do you spend your Saturday? On a tiny patch of grass on London Fields drinking cheap cider with chain-smokers? This year, spend it in Shepherd's Bush.
On Saturday 10th June, Communion's heralded
Bushstock Festival
is making a return for its seventh year to pioneer all good things in new music, craft beer and cracking company (see full line up and stage times below). The London-born record label has grown from strength to strength in recent years, and now boasts an illustrious list of signed artists including Bear's Den and Michael Kiwanuka. So who do you fancy catching on stage before they hit the big time?
Sprawled across many of Shepherd Bush's best independent venues, you can expect Bushstock to lavish you with the likes of
Isaac Gracie
- whose other-worldly vocals will melt in the acoustics of St. Stephen's Church. You might wish to take a pew as the incredible
Benjamin Francis Leftwich
and
The Staves
join him there to see you into the twilight. Meanwhile up-and-coming indie sensation
Avante Black
and beautifully smooth
Jordan Mackampa
will enlighten your afternoon.
Heading into the night, already established and renowned
Nick Mulvey
will entice you at the intimate Courtyard Theatre to headline the festival with the support of over 40 other artists. And if you haven't had quite enough of all that by midnight, Radio X's
Dan O'Connell
will keep you going with his Northern passion until the wee hours.
There's still time to get final-tier tickets to join Communion and over 1,500 other fans to celebrate the record label's tireless efforts to promote quintessentially London music.
The full line up and stage time are as follows:
THE COURTYARD:
Mirror Fury (13.00 – 13.30)
Rukhsana Merrise (14.00 – 14.30)
Mosa Wild (15.00 – 15.30)
Marlon Williams (16.00 – 16.30)
Ten Tonnes (17.00 – 17.30)
Methyl Ethel (18.00 – 18.30)
Sir Was (19.00 – 19.45)
Nick Mulvey (20.05 – 21.05)
Dan O'Connell Radio X (00.00 – 03.00) (Late Night DJ Set)
SINDERCOMBE SOCIAL:
Dan Stock (15.30 – 16.00)
Minke (16.30 – 17.00)
Rhys Lewis (17.30 – 18.00)
Superglu (18.30 – 20.00)
Colouring (20.30 – 21.00)
Island (21.30 – 22.30)
TRAID
The Wandering Hearts (17.00 – 17.30)
Tender Central (18.00 – 18.30)
Banfi (19.00 – 19.30)
Bruno Major (20.00 – 20.30)
Seafret (21.00 – 21.45)
THE DEFECTOR'S WELD:
Avante Black (14.30 – 15.00)
John Joseph Brill (15.30 – 16.00)
Fours (16.30 – 17.00)
THØSS (17.30 – 18.00)
Outlya (18.45 – 19.30)
Cortes (20.15 – 21.00)
Spring King (21.45 – 22.30)
Otzeki (23.15 – 00.00) (Official Afterparty)
THE LIBRARY:
Joy Crookes (15.30 – 16.00)
Jordan MacKampa (16.30 – 17.00)
Mikela Davis (17.30 – 18.00)
Dan Owen (18.30 – 19.00)
ST STEPHEN'S CHURCH:
Jade Bird (14.00 – 14.30)
Aine Cahill (15.00 – 15.30)
Noctürn (16.00 – 16.30)
Gordi (17.00 – 17.30)
Isaac Gracie (18.00 – 18.30)
Basia Bulat (19.00 – 19.30)
Benjamin Francis Leftwich (20.00 – 20.30)
The Staves (21.20 – 22.20)
BUSH HALL:
Arlissa (18.00 – 18.30)
Fyfe (19.00 – 19.30)
Palace Winter (20.00 – 20.30)
Liv Dawson (21.00 – 21.30)
The Big Moon (22.00 – 23.00)
Bushstock Festival takes place in Shepherd's Bush, London on Saturday 10th June 2017 from 12pm til late. Tickets are now available: here: