Exclusive Stream of new Oh Well, Goodbye EP Acquiescence
Liverpool post-punk outfit issue second instalment of EP trilogy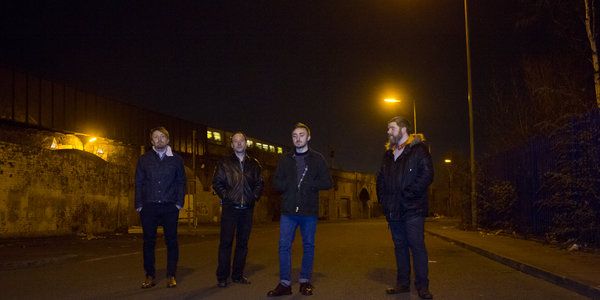 Prolific Liverpool post-punk quartet Oh Well, Goodbye return with Acquiescence the second part of their EP trilogy, available to stream exclusively through Bearded via SoundCloud
here
A project which sees the band release three discs over as many months, the new set is the follow up to 7"
Swoon
and the precursor to remix EP
I Know, I Know, I Know
.
The six tracks on Acquiescence sees the group building on their reverb-drenched post-punk approach. Driving opening track Song That Takes You Home plaits a
Meat Is Murder
-era Smiths bassline with lead singer Phil Rouke's bitter lead vocal '
This is the song that takes you home/To him
'. Elsewhere the pitch dark Fucking Flowers recalls early Public Image Ltd while Pulse which appears as two separate cuts is an impressive exercise in atmospheric shoegazing textures.
Released this Friday through cult San Francisco-based boutique label Bleeding Gold and Hail Hail Records for the UK and EU, the band are set to to tour Europe in support of the release (dates below)
Acquiescence is released through Bleeding Gold (US) and Hail Hail Records (UK and EU) on 14th October
October:
Thursday 13 – London – The Good Ship
Friday 14 – Paris, Fr – Pop In
Saturday 15 - Lille, Fr – Le DIY
Sunday 16 – Krefeld, Ger – Jazzkeller
More EU dates to be announced

November
Friday 11 – Newcastle – Northumberland Arms