Dead Naked Hippies Release Ferocious New Single: Rare
Leeds art rock trio return with blazing new track, plus info on live dates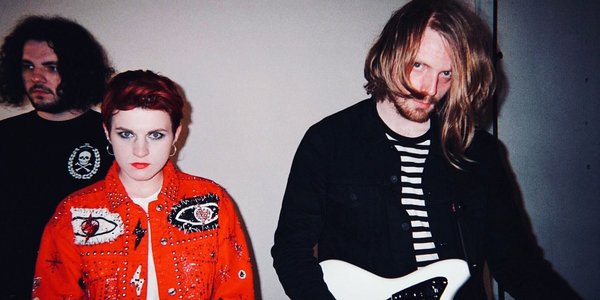 Leeds art punk trio
Dead Naked Hippies
have made a storming return with ferocious new cut Rare. Led by front woman Lucy Jowett's outstanding vocals, the track veers from calm interludes into a cathartic chorus provided by Joe Clarke's bludgeoning guitar riff and Jacob Marston's stop-start drumming.
Following hot on the heels of
Guillotine
issued last month, the new cut is produced and mixed by Matt Peel (Pulled Apart By Horses, Eagulls, Menace Beach).
Lucy Jowett has said of Rare, 'It is a song about self-love. I think we're quick to judge the term and deem it laughable or irrelevant in fear of being arrogant, or weird. But if you take a hard look at the society we live in, it's clear to see why so many people struggle to feel content in their own minds and their own bodies. I've always struggled with myself and it sickens me to think that so many other people feel the same. It needs to change'.
Following a gig for SoFar Session in London this Wednesday (the 5th), the trio head out on an extensive UK tour to back the new single later this month (dates below). Kicking off with a date in Newcastle on the 21st, the trek includes a hometown show at Leeds Brudenell Social Club on October 20th for HERFest.
Dead Naked Hippies UK live dates:

September :
Weds 5th, SoFar Sounds, London (invite only)
Fri 21st, Head Of Steam, Newcastle
Sat 22nd, Reb'Elle Festival, Leeds w/ Honeyblood
Sun 23rd, Sound Food + Drink, Liverpool
Weds 26th, The Hovel, York (live session)
Thurs 27th, The Macbeth of Hoxton, London w/ Vulgarians
Fri 28th The West End Centre, Aldershot
Sat 29th, Green Door Store, Brighton w/ PINS, Sorry, Black Midi, Drahla

October:
Weds 3rd, Pirate Studios Live Stream, London
Sat 13th, Twisterella Festival, Middlesbrough w/ Boy Azooga, Estrons
Sat 20th, HERFest, Brudenell Social Club, Leeds w/ Stealing Sheep

November:
Sat 3rd, HERfest Sheffield, The Leadmill, Sheffield w/ She Drew The Gun
Sat 3rd, 2Q Festival, Lincoln w/ Public Service Broadcasting

Tickets are available here: https://www.musicglue.com/deadnakedhippies/live-dates