Yuck @ The Macbeth, Hoxton 19.09.13
Ebullient rockers Yuck roared back into life this week following a near two year absence from the live circuit, after another unmissable Bad Vibrations promotion saw the lo-fi outfit swiftly sell-out three consecutive nights at Hoxton's The Macbeth.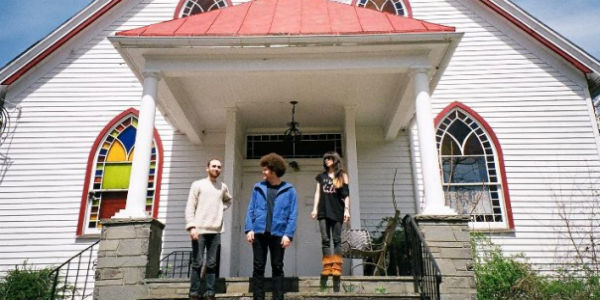 'This is the last night of our Macbeth residency and probably the best,' quipped founding guitarist come vocalist Max Bloom, who picked up frontman duties after Daniel Blumberg's recent departure from the band. It was a moment of reflection that signaled the first pause in proceedings following a fast-paced opening, during which the audience were treated to galvanizing new single 'Middle Sea' nestled amongst tracks from their eponymous debut album.
This came shortly after local buzz band
Whistlejacket
almost part of the furniture nowadays in The Macbeth, began the much-anticipated night with their swirling reverberated guitar tones; paving the way for Canadian Psych' band
Elephant Stone
. The sinister snarl of
The Wytches
proved the perfect penultimate act, as Brighton's finest new band riled with crashing glimpses into their impending debut album.
Yuck
finally graced the stage, backed by the warm glow of cheap fairy lights illuminating a makeshift black-paint-on-bed-sheet-banner, perhaps indicative of the hastily thrown together setlist - as Bloom announced prior to airing the soothing pop hooks of 'Sunday' that it was amongst one of the few old tracks that the new line-up had fully got to grips with. Thankfully, one thing it wasn't indicative of was the performance, as Yuck soon quelled any doubt surrounding the new line-up and effects of a lengthy lay-off.
It turned out that Yuck weren't in completely unfamiliar territory however, as recent addition on guitar Ed Hayes was plucked from behind the bar as a former employee of The Macbeth, whilst bassist Mariko Doi had played the venue just a few weeks prior with side-project Parakeet. The intimate setting finally housed Yuck as a collective, with Bloom touring the audience through a catalogue of Yuck songs new and old.
New songs 'Lose My Breath' and the ironically titled 'Nothing New' were of a similar ilk to their original sound, as hooky verses and riff-heavy pre-chorus' were met with dual vocal responsibilities, showing how much of Blumberg's influence is still deep-rooted. Doi proved she's still a staple of the group, screeching into fan-favourite 'The Wall' as Yuck's residency at The Macbeth reached its latter stages.
There's something special about a residency that harks back to a perhaps more accessible time in live musical history, where soon-to-be-greats honed their trade at local haunts and the buzz around them grew. There's an air of unpredictability that is synonymous with this kind of gig, which was something that characterised Yuck's last week. A synth-removed-grunge-added rousing rendition of New Order's 'Age of Consent' wowed, before Bloom announced, 'We don't usually do encores' just after reappearing following the close of their set. He then proceeded to leap into the crowd, guitar aloft, drawing to a close what was and undoubtedly memorable three-night span of performances from the new look Yuck.