Yann Tiersen @ o2 Academy, Birmingham 25.10.11
With only a year's difference between Dust Lane and his new album Skyline, Yann Tiersen clearly has a lot to show in his recent productive flux.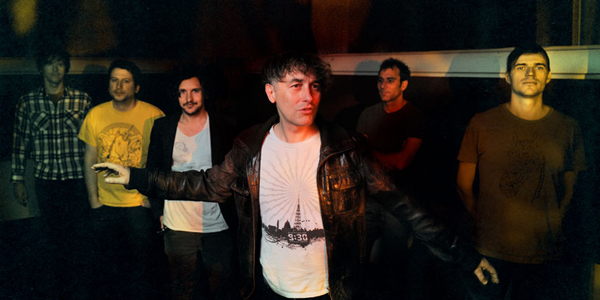 Minutes since entering the o2 Academy enterprise, the eventual realisation kicks in emanating from the utter confusion upon standing in the wrong queue. We escape from amidst the rudebwoy grimesters awaiting what appears to be The Chevin (anyone, no?) and embark on the exact polar opposite, if
Lanterns On The Lake
are anything to go by. Fronted by a somewhat ghostly figure with a sleek white robe and a matching telecaster being gently tendered, it proves a haunting yet enlightening experience for a fresh set of ears as the first and only support.
Speaking as a virgin of his live shows, the multi-instrumentally versed extraordinaire himself is hard to visually distinguish among his band. Equipped with a maelstrom of guitars, synths, keys, pads, glocks and other joyous sonic flotsam, his six piece ensemble are pretty much telepathically entwined. Effortless 5 part harmonies shine on the opener and dualling melodica solos played with shut eyes all contribute to the cacophony of flavours which his more post-rock based material of late offers. The bassist, like Yann, sporting the new logo tee that looks like an irregular game of pong, occasionally whips out a cheeky baritone sax, though its purpose becomes seldom ornamental when it's being overcast by Tiersen's sheer chops on the old violin. There's always been an added degree of eccentricity to a fast-bowing fiddler when watching them, like they're about to jab you in the eye if you come anywhere near them. Our man here, remains reserved and complementary to the dreamy musings orchestrated around him.
"Thank you... this is a love song, it's called 'Fuck Me'" is his longest speech in between songs; clearly it's the music that does the talking in this episode. Despite debatably desperate chants of "Amelie!" from some wishful thinking youngsters before the encore, they re-enter with the beautifully arranged 'Forgive Me', and aptly burning out with 'Till The End' - it finales with a monumental epic build up into an unheralded stop. Left wondering if this was an anti climax of any sorts, it becomes irrelevant after reflecting on the diverse moods and timbre throughout. The reputation of a renowned "soundtrack artist" is a tricky one to shift, and he propels in this challenge with his wistful creativity, freedom and splendour.