Various @ SWN Festival, Wales 10.12 PART 1
Stuart Knapman reports back from SWN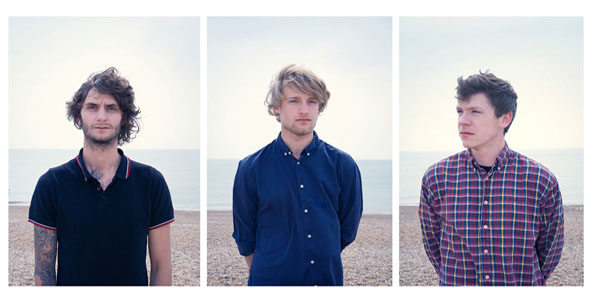 Thursday
One of the first gigs of Swn festival 2012 was arguably the most ferocious. Plymouth metal/hardcore mob
Brotherhood of the Lake
began proceedings with an accomplished, if a little muffled, demonstration of what the best of upcoming metal has to offer. Unfortunately, with the venue some way out of the city centre, the crowd was not as full as it should have been, meaning the performance was somewhat muted.
The next band to take the stage were Kent based
Feed The Rhino
. They certainly took proceedings up a notch, with frontman Lee Tobin leading the crowd through 30 minutes of rock'n'roll meets hardcore mayhem. During their set the crowd really began to swell, as fans and festival-goers flooded in to catch headliners
Gallows
.
At the time much was said about the departure of former frontman Frank Carter, however, new boy Wade Macneil (formerly of Alexisonfire) put to rest any qualms that the band might have lost what made them such a revered live act. From the word go almost the entire band decamped from the stage to take up residence on the venue floor. What followed was an acerbic, ferocious set which mixed up songs from the recently released
Gallows
as well as older material from the Carter era. It didn't matter what material was being played, the crowd variously sang, shouted and screamed along to the entire set. At one point the floor became so wet that Macneil suggested a 'beer slip and slide'; the crowd duly obliged. Gallows have enjoyed a catastrophic rise since their debut
Orchestra of Wolves
came out in 2006 which saw them play venues far grander than The Globe, but, sometimes all the rage and angst got lost in such lofty arenas. This brought it all back home, showing exactly why Gallows continue to be one of the best live bands around.
Friday
Kutosis
were one of the stars of the show on Friday. Their debut long player may have been nominated for the Welsh Music Award, but even such a lauded record fails to really do Kutosis justice. However, in the cramped, sweaty basement of Undertone (and later Clwb Ifor Bach), the band brought a blistering performance full of spiky guitars, yelping vocals and enough energy to solve global warming in one go which truly showcased exactly how good they are.
Of course, the name on everyone's lips for Friday was that of headliners
The Cribs
. Despite rumours of cancellation a good sized crowd filled out the Great Hall to see the band perform what was, according to Singer/Guitarist Ryan Jarman; "One of the longest sets we've ever played." This might have been a bad idea, while old favourites such as 'I'm a Realist' and 'Men's Needs' may have got the crowd going it was hard to shake the sense that some of the B-Sides, rarities and obscure album tracks didn't lend themselves particularly well to a festival headline slot. In spite of this the band put on a very good show and certainly did themselves no disservice, it was just a shame that it didn't quite achieve what might have been expected from what is normally such a reliable, enjoyable live act.
Unlike a lot of festivals the headliner's set was by no means the end of the night of Swn. Next up on the bill were London based J-Rockers
Bo Ningen
. The band are currently regarded as one of the hottest live acts in London and judging by their performance at Swn that is a thoroughly deserved tag. Hurtling through their set at incredible pace, in a venue packed to the point that it felt like the walls might give way at any moment, Bo Ningen seemed like an unstoppable force, and there was no immovable object to get in their way as they tore Dempsey's apart with each song. Based upon performances like this it can only be a matter of time before Bo Ningen are known not just as one of the best live acts in London but as one of the best in the whole country.
Saturday
On Saturday Swn really got into the swing of things, with a number of record labels hosting their own stages around the city. One of the best of these was curated by Bearded favourites Pink Mist. The first band to play were Brighton rising stars
Gnarwolves
. As well as having a great name these three are earning quite the reputation for themselves with their "punk, fucking punk" sound, inspired by skateboarding, pizza and beer. Despite pretty serious technical difficulties on the day it was clear to all present that Gnarwolves are set for big things. Gnarwolves aren't exactly breaking the mould, their music is reminiscent of bands such as Title Fight, but it's something they do very well and more importantly seem to genuinely love doing. It was a shame their set was so hampered by difficulties because it was abundantly clear from what they did play that they have all the melodies, hooks and choruses to be as good as anyone in the genre.
Following on from Gnarwolves were Cardiff's own
Goodtime Boys
. Having recently signed with hardcore institution Bridge Nine records and with their debut album coming out in the near future the band have really started to hit the big time. Their intricate weaving melodies and gut-wrenching vocals is a formula that's been done to death in recent years, but Goodtime Boys still sound fresh. Normally an explosive live band, tearing through crowds and venues with fury, their Swn show was explosive by most standards, but it seemed like they were holding something back. Of course, playing a festival slot at three in the afternoon is never quite the same as playing at ten in the evening and to judge Goodtime Boys by their own incredibly high standards is perhaps unfair. From most other bands this would have been a great performance, from Goodtime Boys it fell just short.
The next band on stage were
Pariso
who, despite not particularly bringing anything to the table in terms of innovation, really held the crowds attention. Their chunky, muscular metal/hardcore sound is something that's been done before, but if it ain't broke don't fix it. Frontman Mario Gamberella spent the majority of his time amongst the crowd, leading them from one earth shattering song to the next with aplomb.
Saturday continued to churn out some brilliant bands into the night, one of these was Bristol's
Turbowolf
. Bedecked in leather churning out dirty rock'n'roll tracks interspersed with spaced out electronic passages the whole of Clwb Ifor Bach was bouncing along to every single one of their absolutely mammoth riffs.
Hotfooting it across Womanby street after Turbowolf provided one of the sets of the weekend. Bearded favourites
Tall Ships
(pictured), playing in The Moon, were perfect. Their electronic math-rock sound brings to mind a number of bands, but the way this is infused with soundscapes akin to the likes of Sigur Ros and 65Daysofstatic (who have recently remixed their single 'T=0') makes them really stand apart. Their set was a whirlwind, leading the crowd from the epic to the angular and back again seamlessly, creating an invigorating, exciting live experience without any of the dramatics of some bands.
Sunday
After three days of incredible live music it seemed impossible that Swn could continue such high standards into a fourth day, but they did. Local boys
Samoans
kicked the day off with a bang. The three piece, at times reminiscent of The Fall of Troy or early Biffy Clyro, had the upper level of Buffalo Bar completely packed out. The band have been blossoming as part of the Cardiff music scene over the past couple of years, and it wouldn't be unfathomable after performances such as this, alongside appearances at Reading and Leeds in the summer, to see Samoans far higher up the bill next year, packing out far bigger venues. Of all the acts at the festival these boys are definitely one of the real ones to watch.
After the high tempo nature of the previous three days it was something of a relief to watch
Fossil Collective
in Chapter Arts Centre. Their multi-layered vocal harmonies, and deft instrumentation were mesmerising, and the perfect antidote to a weekend of eardrum assault. Unlike a lot of the bands playing they were very withdrawn live, but that only served to enhance the dreamlike quality of the set, and proved that sometimes subtlety is the way forward.
Peace
have been hugely touted throughout the music industry, with NME referring to them as 'one's to watch' and the Guardian going so far as to call them the future of indie. Unfortunately, if their Swn set is anything to go by, they've got a way to go yet. At times they were brilliant, affirming all the above plaudits, but at other times they came off somewhat amateurish, as if they were believing their own hype a little too much. Tracks like 'Ocean's Eye' and 'California Daze' are belters but when sets are inexplicably short and just a touch unpolished it can be a little underwhelming. Strong, but not inspired.
Clock Opera
rounded off the festival in style with their heady mix of samples and live instruments, referred to as 'chop-pop'. The band are masters at making the most out of everyday sounds, and this was demonstrated with aplomb when midway through their set vocalist/remixer Guy Connelly recorded the crowd's cheers, only to then play it straight back at them layered up and picked apart. At another point the band all abandoned their instruments to beat on various objects, such as food tins and metal pans. What Clock Opera demonstrated (and Peace could perhaps do with learning based on their earlier set), is that more than anything else, live music is supposed to be fun. A fitting end to an exceptional weekend of live music.
Huw Thomas also visited Swn. Read his alternative review
here