tUnE-yArDs @ The Scala, London 08.06.11
Merrill Garbus and Nate Brenner, live members of tUnE-yArDs played their largest show to date at London's Scala last week.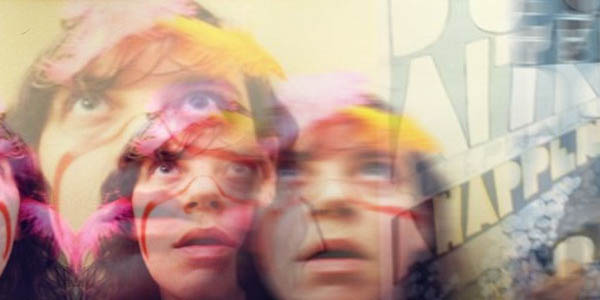 Such is a live show comprised of these two figures that one can't help but describe it as a clamorous mess of looped instrumentation - and by that I mean the best possible cacaphony of sound - so much so that the recorded versions of these tunes seem too restrained in their performance's shadow.
What makes a
tUnE-yArDs
gig so unlike anything else you may ever hope to be a part of is the energy and intensitive, and the simultaneous perfection that is thrown into something that may fall to pieces at the fault of a second. It's all down to the looping and how this really hinges on an exact moment; Garbus proving herself master and commander of her audio world as she colourfully loops the sounds of her manically rapped and tapped snare drum, allowing her to flesh out these sounds with her ukelele and rasping, urgent vocals which the crowd can only hope to echo in exhuberant "yeahs" of appreciation and possible disbelief.
Following up
Bird-Brains
(2009) with this year's
w h o k i l l
Garbus opened proceedings with 'Hatari', as heart pounding rhythms on the drums intruded; a feature which behind all she does this really is the centre of her work. It's some kind of deeply organic, tribal sound that channels all of the positivity of life and nature into a joyousness that is hard to match...and hard to grasp listening at home. While it's near impossible not to rattle on about the central figure of this scene, the experience wouldn't quite be complete without bass player Nate Brenner, who too was supported by Kasey Knudsen and Matt Nelson on saxaphone (the outro on 'Bizness' their crowning moment of the evening), and their inflections of diversions from the clamour is a mere tiptoe on the ground; weighting the performance with a professionalism. Watching the four interact, amalgamate sounds as if by pure accident...as if for the first time, was mesmerising, as was observing their multi-instrumental talents as they chopped and changed between instruments throughout the performance.
Highlights included 'My Country' and 'Gangsta', the latter an as yet unreleased track. It's these teasing helpings of more that the crowd this evening couldn't resist, and with this up her sleeve and more it seems it's only explosions of brilliance from the artist here on out.