Trophy Wife @ XOYO, London 09.02.11
Incredibly new Oxford-based band Trophy Wife released their debut single 'Microlite', and performed their first live shows, in November last year. They've already supported Foals and Bombay Bicycle Club, and this night is the last of a two-week tour as main support to Esben & The Witch. With new single 'The Quiet Earth' due for release in two weeks, and a string of positive reviews from many reputable publications under their belts, it was definitely time to check them the heck out.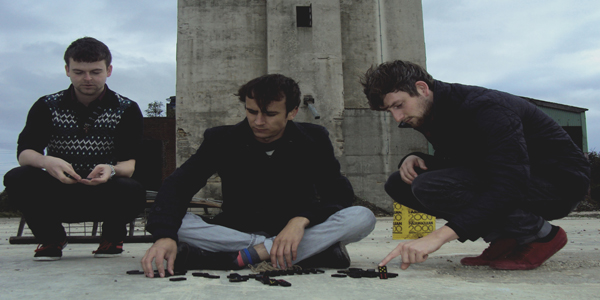 By the time
Trophy Wife
were due to perform, XOYO was pretty bloody packed. This could easily have been a result of The Fly's zealous prediction that the band are "a surefire bet to light up 2011" or The Guardian's description of' 'Microlite' as "fully formed" and "perfect". With quotes like these, plus other positive mentions from the likes of Music Week, NME and Artrocker, it seemed possible that this could be exciting.
Trophy Wife certainly boasted a mature sound, complimentary live backing tracks and inspiring energy from keyboardist Ben Rimmer and, most prominently, Kit Monteith on drums, triggers and laptops [who, judging by his performance and likeability, could easily start a solo project in the style of Unicorn Kid and become a festival legend]. Seemingly aware of Ben and Kit's enthusiasm, the band positioned themselves on stage so that all four members were completely visible and seemingly equal in priority; although this was wise in some ways, it was detrimental in others; Kit in particular was such an engaging performer that it was a challenge to pay any attention to introverted vocalist Jody at all, eliminating any chances of lyrical empathy and making it all to easy too forget about his soft, aspirate vocal altogether.
The band's final track, a refreshing and pleasantly surprising electronic adaption of Joanna Newsom's 'The Book Of Right-On', was without question the highlight - lively, well-arranged and sombre - but generally speaking, the set was quite forgettable.
Trophy Wife are obviously musically capable and technically advanced, but the songs lacked dynamic movement and were difficult to differentiate between. The lead vocal [when one remembered it was present], although vaguely reminiscent of the great Bernard Sumner, was not distinct or dynamic enough in tone to prevail against the prominence of the backing track, and the melodic lines were decidedly unremarkable.
An extra blow came when
Esben & The Witch
took to the stage; they shouldn't really have worked, completely lacking in song structure and, like TW, void of musical dynamics, but front-woman Rachel Davies' hauntingly eloquent vocal, the naturally brilliant band aesthetic, and the bleak, tortured intensity of the atmosphere created, made them nothing short of breath-taking.
Trophy Wife are by no means terrible, but it is too easy to envision them disappearing swiftly into obscurity like so many over-hyped indie-esque bands before them.
A little beige.
Trophy Wife release new single 'The Quiet Earth in 7" format on 28th February via Moshi Moshi records. Both 'The Quiet Earth' and 'Microlite' are available on iTunes now.