Throwing Muses @ The Gate, Cardiff 08.11.11
Celebrating more than 20 years in the business, Throwing Muses prove that sometimes the old ones really are the best ones.
Nov 8th, 2011 at The Gate, Cardiff / By
Huw Thomas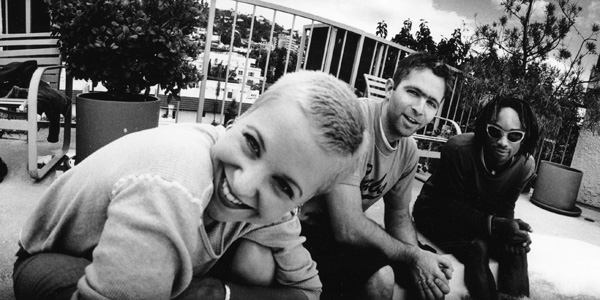 If you'd been asked back in the 1980s which then current alternative US bands would still be kicking around in 2011, chances are you wouldn't have picked
Throwing Muses
. What with frontwoman Kristin Hersh's well documented struggles with bipolar disorder and the fact that they missed the alt-rock gravy train caught by many of their peers, you would have thought they would be too fragile to survive for so long.
Well, that hypothetical 80s you was clearly an idiot. Back on the road in support of a career-spanning retrospective album, Throwing Muses are in rude health and looking surprisingly well preserved for an act of their vintage.
At first they seem a little overawed for a band that have been in existence for about three decades. Emerging on stage in the converted church that provides the venue for tonight's show, Hersh surveys her surroundings and greets the crowd with a self-deprecating "This is beautiful! This isn't going to go well. We're not beautiful."
The audience, clearly made up of many who have been on Team Muses for the long haul, could not disagree more. Of course, there is the faint whiff of nostalgia, but the gusto with which the band tears into their extensive back catalogue quickly dispels any suggestion that they might just be going through the motions.
On the face of it, Throwing Muses are a simple band. Just guitar, bass and drums, unencumbered by any unnecessary frills. In practice, they use these simple tools to remarkable effect. Songs lurch woozily from place to place, never settling into conventional structures, but at the same time remaining strangely accessible. At the heart of everything is Kristin Hersh, a captivating blend of vulnerability and ferocity. Her voice shifts from a tentative murmur to a bloodcurdling yell in an instant, mirroring the music's unpredictable angles and textures. Highlights include a rollicking 'Bright Yellow Gun', which prompts completely unabashed shape throwing in certain sections of the crowd, and an affectingly stark run through of 'Pearl' from 1992 album
Red Heaven
.
Throwing Muses in 2011 are a winning testament to the power of persistence. They've never packed out enormodomes, gone platinum or been hailed as the next big thing. Operating under the radar, they've quietly gone about the business of creating music of astonishing breadth and quality. Based on what we've seen tonight, we're all the luckier for it.