Thomas Tantrum @ Hoxton Bar & Kitchen 27.04.11
Thomas Tantrum have had their fair share of excitement – from attracting the support of mainstream queen Lily Allen, to masses of NME support and glowing reviews for their debut album. We've heard that debut album, and it's not half bad, reminiscent of a more accessible Art Brut and a less accessible Kate Nash – art-punk with indie pop sentiments, quirky but still chart-friendly. Soon to embark on a three-date support tour with Glasvegas before a month-long headline tour in June, Thomas Tantrum use this date to showcase new material from their forthcoming second LP.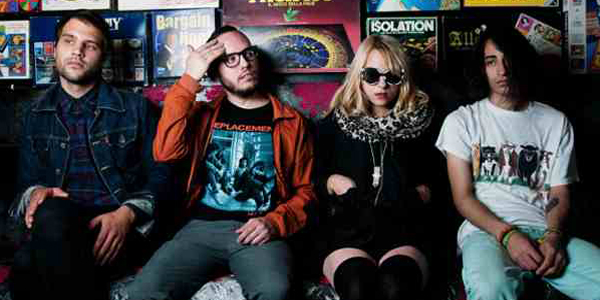 After reasonable support from
Doyle & The Fourfathers
, a Mystery Jets-esque affair with Boz Boorer guitar riffs who are definitely worth a look,
Thomas Tantrum
took to the stage looking tired and apathetic. Perhaps this was the result of playing Hoxton Bar, a smaller venue with a relatively small audience, having played Koko a few days beforehand, or perhaps they've been rehearsing relentlessly for their support slots with Glasvegas. Perhaps they're just bored of playing their old material – the debut album came out in 2008 and it was only last month with the release of their new single 'Sleep' that the band have moved on to pastures new.
One could not help but compare Megan to a young Debbie Harry – aloof, glam-punk and positively pretentious. We just wish she hadn't rolled her eyes in such a monotonous fashion in 'Shake It Shake It', still the band's best track and song of the night.
A few days after the release of 'Sleep', the band posted a new biography to their website which declared that 'like it or not, Thomas Tantrum's scrappy days are well and truly over', describing the forthcoming new material as a 'slicker, deliciously mature offering'. Hearing a handful of the new tracks tonight, this is quite a shame – it was TT's stabby guitars, random riffs, awkward time signature changes, half-spoken vocals and matter-of-fact lyricism that really separated them from the intensely over-saturated indie scene; the new tracks are not dull, but compared to the eccentric yet approachable 'Shake It Shake It' and the clumsy brilliance of "Warm Horse", they taint the set with what can only be compared to commercial interference.
'Face The Music' was the best of the new, with a stunning Cure-esque guitar riff not dissimilar to 'Friday I'm In Love', but dissimilar enough. This song wouldn't sound out of place on day-time radio, and would no doubt attract some welcome attention, but having read how dismissive the band have been about their old sound and noticing the body language on-stage [which may well have been a performance choice, but looked far too authentic to be], it was difficult to enjoy it completely – it is safe to say that we'll miss the old TT an awful lot more than we'll like the new direction.
Stay tuned for the new album
Mad By Moonlight
in June though – if 'Face The Music' is anything to go by, we could be in for a couple of pleasant surprises.
* * * * * * * * * *
Thomas Tantrum's debut album and new single 'Sleep' can be found on iTunes, Amazon and Spotify. They are playing three dates in May with Glasvegas in Glasgow [3rd], Cardiff [4th] and Bournemouth [6th]. New album 'Mad By Moonlight' is out on June 13th.