The Sea At the End Of Her String: Church of the Annunciation, Brighton, 27.09.18
The launch night for the titular EP issued by indie label FatCat is an impressive, evocative showcase
Oct 1st, 2018 at Church of the Annunciation, Brighton / By
Norman Miller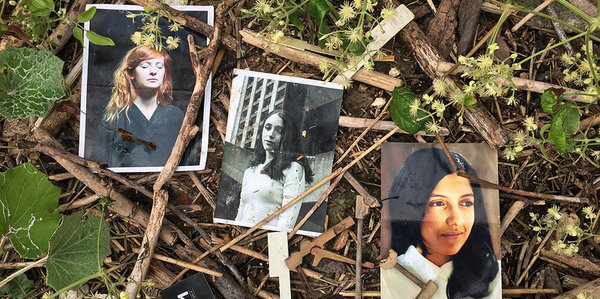 Brighton's Church of the Annunciation is a Victorian hymn to beautiful artistry, with its barrel-vaulted wooden Gothic revival interior adorned by an "Annunciation" window designed by Edward Burne-Jones and fashioned by William Morris. And there's gorgeously crafted musical artistry at this evening showcasing a trio of adventurous and distinctive female artists from the pioneering FatCat label. A gauze backdrop bears the title of the evening - which comes from a line in Sylvia Plath's poem Three Women - as well as providing a canvas for various projections throughout.
Swedish-Iranian pianist
Shida Shahabi
opens proceedings with half a dozen pieces such as Absime and Pretty In Plums from for forthcoming debut album
Homes
, out October 19, along with the two tracks she contributes to the eponymous concert EP, Chloris and Flora. Shahabi often plays on prepared pianos - think fabric tape and thick felt - which adds soft percussiveness to her sound here, allied with judicious use of electronic delay and hints of synth. There's a lovely stateliness to her playing, at times calling up the poignant leftfield beauty of Erik Satie, at other times the gentle dance rhythms of a pavane.
Polish cellist
Resina
(the alias of Warsaw-based Karolina Rec) is very different, filling the middle section of the evening with the sort of angular and inventive electronics-augmented cello improv that attracted supporting slots with the likes of dark avant noise merchants Godspeed You! Black Emperor.
As well as her tracks from the concert EP –
Round and Aguirre
– plus pieces from her 2018 album
Traces
, such as the eerie In with its underpinning of ethereal electronic voices. With her red hair often almost all we can see in the gentle lighting and waft of smoke that surrounds her for much of her set, she seems utterly turned in to her cello, drawing fantastic sounds from it with the use of loops and echo plus a bold playing style full of slaps, string plucking and skittering sequences.
French pianist
Emilie Levienaise-Farrouch
begins her closing section of the night sharing the stage for a couple of pieces with Resina such as Ultramarine which at their best conjure the potent sweeping sonic build of Mogwai as cello and piano combine space with repeated motifs.
When Resina departs, things turn to Levienaise-Farrouch's more usual style, where gorgeous mid-tempo progressions mix with cascades of notes on tracks like Redux and Fracture Points, but always with a sense of beautiful melody. Again, there's a 2018 album –
Epoques
- to explore some of the loveliest contemporary piano music around.