The Scoundrels @ Notting Hill Arts Club, London 28.07.10
In a sticky, sweaty, delightfully messy venue, the Scoundrels begin their set. Later than planned, but ready for anything and everything they plunge headfirst into their opening track 'Just Cant See It Through'.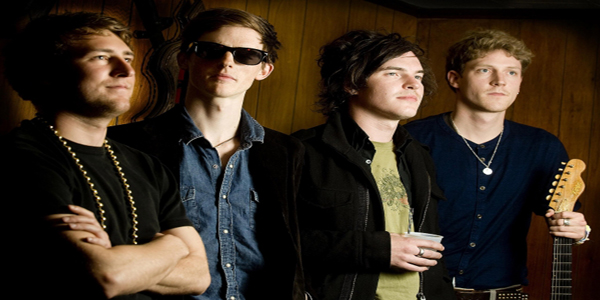 Vocalist and lead man New Wyndham's dark voice is dripping with vitriol, recalling a story of past mistakes tinged with a fear of being held back, emphasised in the biting "I don't care what the Vicar man says, Time to settle down, time to be safe". Catchy and punchy, you cant resist being pulled in by their collective charm and charisma. The whole crowd have developed their individual crushes by the end of the track, and no one can stand still.
There is a definite feeling of Americana backing up these four guys from London, and with lead guitarist George's fast paced fretwork there isn't much room for disappointment. All dolled up in a mean all-in-one spandex ski number and dark glasses, he looks just slightly out of keeping with the rest of them. George is definitely gifted with one heck of a stage presence.
In fact, there isn't one of them who looks out of place here. As they drive straight into their next track 'Sniff It Up', out the other side and onto the fantastic 'Hangman's Lament', with it's twisted lyrics "You're going to swing for what you've done", this is no half-assed approach. Well practiced and looking well-seasoned drummer Josh Martins and bassist Alex Hill keep to the perimeters, knocking out stellar rhythms, as watchable as the guys front and centre.
There is a great balance between the serious musicians we see on stage, and their fun-loving side. Deep and dark lyrics are affected with a cheeky smile, and with tracks such as 'Sexy Weekend' and 'I Got Loaded', there is an indefinable sense of fun and frolics. Everyone is out for a great time, and The Scoundrels tune into this perfectly. By the time the end is nigh, with their outro track 'All On My Own', the crowd is in the blissful state of reckless abandon, throwing caution to the wind and having a good ol' friendly riot!
It will be of no surprise to anyone if these guys turn up in one of those well known glossy musical rags some time soon, and to be honest, it would be a crime if they didn't get the recognition they deserve. With guitarists like George and Ned keeping pace, punchy riffs and an undeniably sexy rhythmic thrum set by Alex and Josh, you can't really go wrong. The Scoundrels are at home on the stage, and it seems wrong to deprive anyone of the right to see them. Onwards and upwards to bigger stages and heaving audiences, and many more 'Sexy Weekends'.