The Raincoats play The Raincoats @ The Scala, London, 20.05.2010
Nothing seems to have been lost from the guts of an all-girl group who kicked their way through the machismo of an amphetamine-fueled punk crowd in 1978...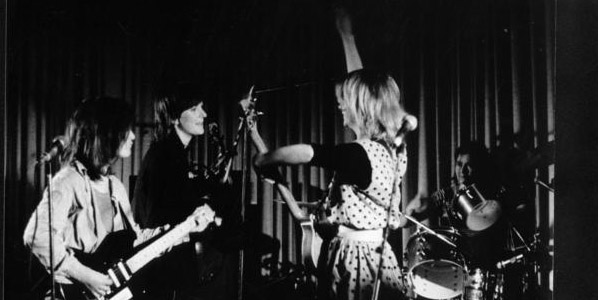 I'm no way near old enough to have been there the first time round - back in 1977, when The Raincoats were just starting out, gigging and working their way towards their eponymous debut. But hearing it recounted in all its splendour, right through from side A to side B, just the way I've been listening to it for the past year, is glorious. Ever since the reissue landed in my Raincoat-less existence, I've been enamoured by its languid chords and all-mighty fiddle (who's all-mightiness has only really become clear in the past 45 minutes). Chords, that nowadays seems unattainable, like the grainy finish of 70's movies or the cock-thrusting swagger of Jagger or, well, the guts of an all-girl group kicking their way through the machismo of an amphetamine-fueled punk crowd in 1978.
And maybe it all hangs on my fickle throwback nature; the fact that I romanticise about past decades and can't stir up nearly enough enthusiasm for the one that I'm living in now. All though no doubt, in a couple of years' time, I'll be looking back on the noughties with misty eyes, waxing lyrical about how good Nelly feat. Kelly really was. Or how nothing is as brilliant as The Killers' 'Mr Brightside' anymore. Or maybe, just maybe, time and circumstance does get captured in the web of chords written 30 years ago and the magic I'm imagining isn't just dust in the grooves.
Because nothing seems to have been lost from The Raincoats' chutzpah. Sure, their not eighteen anymore, but despite what they might've thought when they were recording 'Don't Be Mean' for
Looking In The Shadows
, they're not 'old and grey' and we're definitely not looking the other way. Ana Da Silva's floppy fringe is still in tact and a Union Jack beshirted Gina Birch reigns over most of the night's proceedings, adding anecdotes and name-checking ex-bandmates – who Birch humbly seems to think were all a lot cooler than her.
Much to my amusement, the crowd graduates from those in the front, all quite young, possibly re-issuers like me, to the heads on the back balcony of the Scala, who were probably all there the first time round. But we're all on the same merry-go-round now. Especially once 'Black and White' kicks in, a rumpus brouhaha of a tune that fiddles and saxophonizes its way into our nodding heads – and hearts – making us forget that we were all waiting for the side A crowd-pleasing closer 'Lola'.
It's nice knowing exactly what you're gonna get from a gig for a change. I always pretend that I'm laid back about what'll be played and what will be left off of setlist but I'd be lying if I said I hadn't left numerous shows still aching to have heard that one song, just that one, the one that in the privacy of your own headphones you can play over and over again. Trying to recapture the way it felt when you first heard it and your belly flip-flopped and your hairs stood to attention. Sonically chasing the dragon, so to speak
.
So satisfaction guaranteed, the 'Coats razzle through 'Fairytale in the Supermarket', the reissue bonus track - everyone knew what they came here for and my, my, my did we get it.