The Melvins @ The Globe, Cardiff 30.09.11
The Pacific-Northwest sludge merchants rearrange some eardrums in the Welsh capital.
Sep 30th, 2011 at The Globe, Cardiff / By
Huw Thomas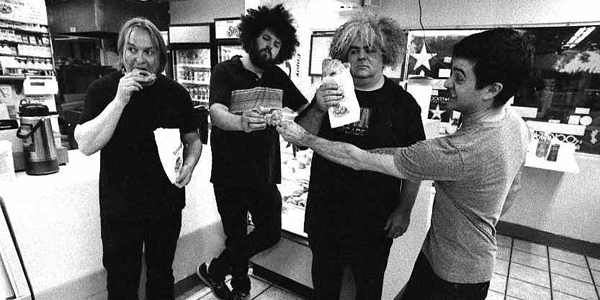 Put simply,
The Melvins
are immense. Even before a note is played, one glance at the setup confirms we're in for something with a fair bit of grunt. Twin drumkits, placed so closely together that they almost overlap, dominate the centre of the stage. Arranged around are grizzled vintage amps which bear the scars of a lifetime on the road.
When the band appear in the unseasonably sweaty venue, they are no less striking. Buzz Osborne's gravity defying shock of grey hair protrudes from what looks like a customised high-necked dressing gown. Not wishing to be outdone, bassist Jared Warren sports a similarly unruly barnet, though he is wearing a slightly more climate appropriate kimono/dress number.
And then the sound starts. This is not that big a venue, certainly considerably smaller than the one The Melvins played at last time they were in Cardiff, and the drums alone are loud enough to press the audience against the back wall. Factor in Osborne's grinding, serrated guitar and the noise is almost overwhelming. In a good way.
What The Melvins understand is that you can never have too much of a good thing, provided your definition of a good thing is an ear-splitting sonic assault. Watching them wring chunks of distortion from their instruments, it's hard to believe that they have been around in some form for nearly 30 years. The addition of Warren and second drummer Coady Willis has certainly had a big effect on the band. While you'd struggle to call anything they do accessible, recent albums have seen an increasing focus on The Big Riff, which works incredibly well live.
Both 'Civilized Worm' and 'A History of Bad Men' from 2006 album
(A) Senile Animal
sound absolutely megalithic, prompting frenzied slam dancing from the crowd, many of whom are certainly old enough to know better. And that's the best thing about this show; it is a lot of fun. They may be making deliberately ugly music, but The Melvins are doing it with a smile on their collective faces. As the drums churn, the guitars screech and Buzz somehow fails to submit to heat exhaustion despite his unusual attire, everyone in the room is having a ball.
And then it's over. The music stops and all that's left is the ringing in our ears and the hope that we get to do it all again soon.