The Hit-Ups @ Hope & Anchor, London 15.11.10
Miles away from their Bristolian motherland The Hit-Ups take to the stage and stand in front of a pretty impressive crowd considering they don't hail from 'round here. You'd be mistaken for thinking it's due to the headline act (witness the terrific drop in audience numbers after their set!), but it's all them!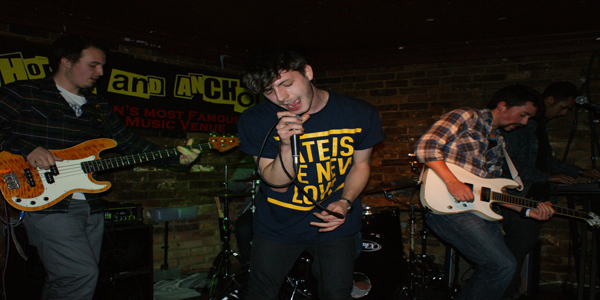 Bravely debuting a track which has not yet been recorded, 'Let's Leave, Set Speed' accurately showcases their newer, darker edged brand of disco-death (a loose Bearded term), and indeed the speed at which they deliver. Each line, riff, beat slams you with passion, joy, and the odd touch of vengeance.
So with the introductions done, 'Weights and Their Worth' does away with all ceremony and throws you down into a heavy drumbeat, and some hundred-mile-an-hour vocals, tripping off the ska-guitar and bouncing off the walls. Taken from the latest EP
Smile Spectacular
, the two first tracks have served a cross section of concepts in which these guys dabble (Hip-Hop, Electro, Ska, we could go on), with one singular thread stitching them together, a thread which frontman Josh's T-shirt seems to eloquently highlight - 'Hate Is The New Love'. Perfect.
The raucous wall of sound we encounter hails the reluctant end of 'Weights...', but the joyful greeting of '66Sexy', a feisty torrid tale, dark lyrics "Yeah girl you might love him so, but after tonight, you're never going home" mingling with the tender tenets of "I'd burn those bridges to own this throne, I'd set the sky alight to drop you home".
Settling in now, the stage has been owned, 'Stay Coal' and 'Paddle Down' unleashed at breakneck speed, before delivering to us another as yet unrecorded track in the form of the cheekily titled 'You're Dead, Lets Disco!'. You'll have to wait 'til Christmas to hear that one sadly! Before the crowd have had half a chance to badly injure themselves in that prime 'disco for damage' dance fashion, it's time for the exit track, and 'Unforgivable' takes on this guise. A fantastic ender, with its insatiable riff and bouncing beat, the lyrics succinctly capture what has been witnessed. "Let's live a haunted life, let's live forever, let's be the disco ghosts, let's be together" and the tactfully put "I got my bottles ready, like party party, while my guts scream Vomit HO!". A raucous and rapturous affair from start to end, it's only a matter of time before these gentlemen are storming back to the smoke to stamp their name in twenty foot high letters. You have been warned.
'66Sexy' and 'Unforgivable' are available now for free download on the Hit Ups Myspace. go on, treat yourself!
go here