The Front Bottoms @ The Haunt, Brighton 02.09.14
Only a band as wryly sardonic and emotionally sincere as the Front Bottoms can carry off such a sarcastically insincere name.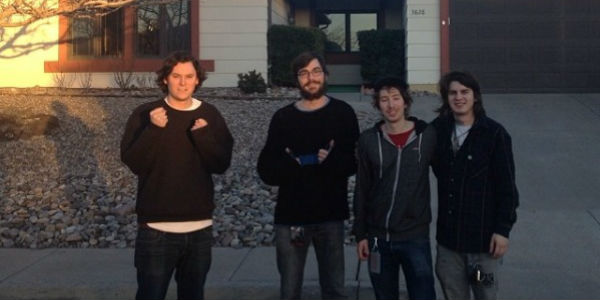 The name makes more sense upon listening to their music which is filled with mundane everyday narratives told with such wit and homespun charm that you could mistake these punks for poets. However, singer/songwriter Brian Sella's comically observed self awareness prevents any hints of pretension. Hence their incongruously non-poetic name. However, the name certainly hasn't held them back as they arrive in Brighton on a wave of momentum that has been building over two full length albums and a spate of EPs and self released recordings.
The band shamble on stage like the cast of a bad Judd Apatow movie chugging on bottles of champagne and clearly ready to party. The Haunt's intimate atmosphere is fitting as the band's college slacker demeanour and banter makes the gig feel like watching your friends playing at a house party. Sella, coming on like a stoner Heath Ledger is initially startling in his intensity as the band plow into their familiar tales of sofa singledom and thwarted love but there is a celebratory feel about these tales of abandon that belies their sincerity. A wry smile there and a hilariously honest lyric here creates an inclusive feel that lifts what could be sad songs into anthems of shared slackerdom.
Songs like 'The Beers' exemplify this unique quality with its simultaneously touching and hilarious chorus of; "And I will remember that summer, As the summer I was taking steroids, Because you like a man with muscles, And I like you." The rapturously received 'Swimming Pool' with its Joni Mitchell-esque poignant lyrics such as; "There's comfort in the silence of a living room" is performed with the same intensity as the flippantly sarcastic 'Au Revoir (Adios)'. This is a band that revels in stupidity and intelligence with equal relish
.
This mix of high and low culture is equally reflected in their sound. Sella's folk-pop acoustic guitar is married both to Mathew Uychich's bone crunching drums and to occasional melodic trumpet flourishes and whimsical keyboards. It bears similarities to 'Come on Pilgrim' era Pixies and shares elements of their distinctively schizophrenic sound. If I was perverse I'd suggest they sound like 'Basement Tapes' era Dylan fronting Green Day. All of which is really to say that the Front Bottoms play pop songs with unusual wit and substance.
It's also striking how comfortable and professional they are as performers which bearing in mind their notoriously heavy touring schedule should be of no surprise. There is little separation between performer and audience with jokes shared between band and fans, birthday cakes delivered to the stage and preposterous between song rambles which in a performance of furious pace, never outstayed their welcome. One such anecdote from Brian Sella about nearly drowning on Brighton Beach brought many a bemused smile and led beautifully into old favourite; '12 Feet Deep.'
So, a triumphantly received gig was concluded with the insanely catchy and charming 'Twin Size Mattress', a typically finely observed tale of heartbreak that subverts any self-pity with laconic sincerity. If one song defines the Front Bottoms, it is this song. A thrilling climax to an anarchically entertaining gig.