The Felice Brothers @ The Forum, Kentish Town, London @ 05.01.15
Cult NYC brethren on sparkling live form in London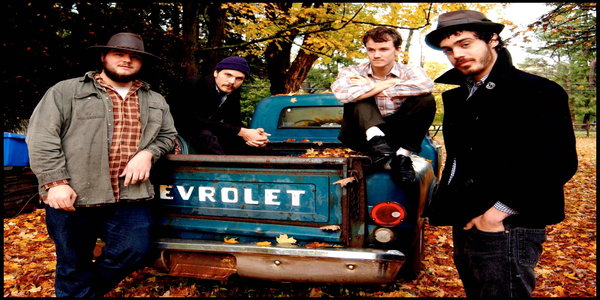 Underneath the murky swell of smoke and musk at Kentish Towns' The Forum, what appeared to be a rogue band of traveller-musicians shambled on stage. Dressed in raggedy clothes and oversized t-shirts, they wouldn't have looked out of place at a street production of Steinbeck's
Of Mice and Men
. Armed with a fantastic array of instruments; violins, accordions, an organ and a huge, looming drum-kit; they lit up the stage extraordinarily. If one didn't know the brothers – and they are brothers – one may be inclined to think they came from the southern depths of America.
It is surprising then, to find out that
The Felice Brothers
come from upstate New York, near the beautiful Adirondacks. It's a place with a foreboding name; The Catskill Mountains. They live remotely, at a ranch with a chicken coop. These farmhands, however, house a glittering array of books. In a past interview, I remember James Felice – vocalist and accordian maestro – lamenting the fact they never get recognised as being 'bookish'. They came across as intelligent artists; shy and retiring, full of ambition & vigour which burnt silently under the surface. It was this vigour that was so resplendent tonight.
The band played crowd stompers, hee-haww anthems, ballads and the signature songs, 'Frankie's Gun', 'Whiskey in my Whiskey', 'Love Me Tenderly'. It's the brooding numbers that get me like a kick in the nutsack. The songs swell and swell, until you either get lost or fall over. This made for a laugh when my mate did exactly that. The fact he was blind drunk by this point was neither here nor there.
These songs have that authentic Felice feel; they're bluesy; they have characters and more importantly narrative. Outlaws, bent card-dealers and lizard-licking drunks shag Eleanor, fight with Danny, then get shot by Frankie, who fortunately is an AA counsellor, "
Frankie you're a friend of mine/ Got me off a bender after long-legged Brenda died
".
Originally featuring all three brothers, former drummer Simon Felice upped and left, started a new act with Robert 'Chicken' Burke called The Duke & the King (named after the duo con-artists in Huckleberry Finn). Not that there's anything wrong with that, but there have been rumours of animosity ever since. Not all was well in the Catskill Mountains it seems.
This modern incarnation of the brothers features only two of them, Ian and James. They were joined by former travelling dice player "Christmas Clapton", fiddle player Greg Farley and drummer Dave Estabrook. Ian is lead vocalist and a drainpipe of a man. James holds court with his accordion like a rugged, beautiful bear. He's huge and his muscular arms look perfect for a scrap. His demeanour seems gentle however, like Walt Whitman inviting you to a pint. He sits down at the piano for the ballads. The accordion comes out for the fast-paced stompers, where people romp and punch the air,
They went into the stomper 'Take This Bread', well received from the crowd, the brilliant melody matched by the biblical quality to the lyrics. It really is like going to a drunken shack-party. Next up was 'Day of the Big Surprise'. There were some scorching violin ballads with notes breaking into the air like a stiletto cutting cable wire. All this was complimented by schizophrenic lighting and buzzing amps. The atmosphere became increasingly dramatic throughout the show – at one point James looked heavenwards, sweat on his brow; bathing in the ecstasy of the Almighty.
Following this things calmed down as the band went into 'The Greatest Show on Earth' and it was all shadows on stage. Suddenly great drumsticks appeared through the mist. He was using mallets. I felt the bass reverberating through my bones. The curtains were roaring red like lipstick gum. Suddenly the crowd broke into a fury as the band played Frankie's Gun. I was now expecting a bar-room brawl. Luckily it was nothing but love. We were through the danger-zone.
To encore they went into the best song of the night, 'Love Me Tenderly'. A story of pillboxes, dime-sacks and diamond watches – this is The Felice Brothers at their best. The lyrics "
A sunny day, a shotgun and a Chevrolet
" still ringing in my ear's long after the gig.
The Felice Brothers are a special enigma of a band; the bassist looks like a space-nerd, they write fantastic literary songs of outlaws and drunks, they play virtuoso violin ballads, and yet they still manage to sound like they learnt to play in an Irish pub. This night they came to The Forum and dominated.