The Deer Tracks @ Whirled Art Cinema, London 27.07.11
The Deer Tracks wander on stage at the Whirled Art Cinema and begin making their ambient noises before conversation has died down. It doesn't take too long before the conversation shifts from the unusualness of the venue to the live music itself.
Jul 27th, 2011 at Whirled Art Cinema, London / By
David Waite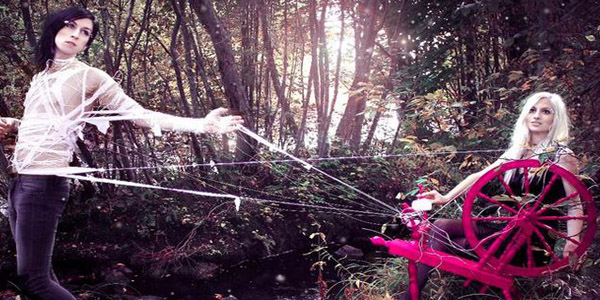 This incarnation of Swedish electronica is more organic than many of a similar ilk. And there is certainly a lot going on here. Refreshingly, whilst there is a Mac book (obvs), a lot of noises are at least triggered by a human. As the set continues the list of instruments used grows, even to include a hacksaw played by a bow.
The band are full of rich and complex layers and it's only in the consistent eccentricity that they get slightly tiresome. The visual offering is strong, but then they have the cinema screen for which this venue is primarily used, as a tool. Slightly less endearing than then northern European imagery being projected, is the bands costume design. Stylistically aware it may be, but the band's mannerisms and fairy tale attire does add a slightly farcical glam element to the evening.
A two-piece by definition, Deer Tracks have an additional 2 members for live purposes - a drummer and a keyboard player. Both do an excellent job of laying a foundation for the two up front. In fact the only weak music element on the night is the vocals. Wistful and dreamy in the studio mix, both male and female vocalists add little to an otherwise accomplished and well honed set.
Opening track 'Meant To Be' is a great introduction to what this band is all about, the melodic 'Books Of Bloods' flows and drifts before kicking the energy up a level towards its conclusion, and the stand out of recent release
The Archer Trilogy Pt.2 (The Control Group)
'Dark Passenger' is every bit as epic as on the record. On the whole Deer Tracks are entertaining and discussion provoking and that seems to be exactly what they are aiming for.