The Black Twig Pickers @ Cafe Kino, Bristol 26.04.12
Sadly, too few are present to witness tonight's trio of talent from Virginia, and Bearded only hope there are enough to help the awesome Kino crew break even. Damp weather plays havoc with ticket sales, and with string tension, but rarely with the morale of those that do turn up, and credit is due to musicians and attendees alike for making this event a success.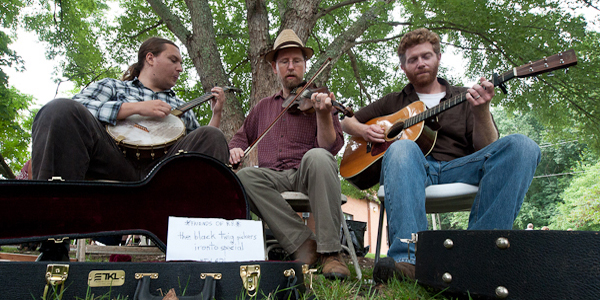 Talent comes in many forms. We've seen
the Black Twig Pickers
described as an old-time Crazy Horse and this goes a long way to describing their supreme natural talent; they are 'feel' players, and it's through that 'feel' that the feeling of these old-time Virginia songs and tunes is best conveyed, and felt most. Nathan Bowles takes to the stage first for a set of banjo tunes, some penned by others (Charlie Parr, Jack Rose . . . friends, fallen comrades) he plays these with a good deal of self-expression and confidence. The original numbers highlight an inventive streak, and show off his instrument's under-appreciated versatility, for the banjo has the ability to cross mood and genre boundaries if handled correctly.
Next up there are further banjo delights from Mike Gangloff, his banjo is new, perky and fretless, he exploits alt-tunings to great effect, and a world of dancing notes opens up in the room. Gangloff is at his best though with a fiddle in his hand, and he has two to choose from, each tuned differently, and each with an individual sweetness of tone that gets under the skin. He sites The Hammons family as clear influences and plays a number of their tunes. He talks freely; of home, of the origins of the music; names that conjure up clichéd images of traditional Appalachian life. Indeed, it is stirring enough without the outstanding folk music, and with it – striking melodies from strings and now voice as well – the evocation is complete, then third member of the band, Isak Howell, picks up his guitar and joins Gangloff for a song and we're reminded that this is just the warm-up.
The three players, when united at last, turn what was a good evening, into a truly excellent display of musicianship, and the music's power to transport, to even defy space and time, comes to the fore. If Gangloff's tunes of birds and the sky fairly took flight, now the whole earth is open to us, and our simple basement has become a vessel for sound, and a portal to an older world. This music has travelled so far – back and forth across continents, and through the ages – that it is refreshingly logical that the resulting power and energy is so apparent. Bowles shows off his multi-talented nature as a percussionist, especially on fiddlesticks and mini washboard, and like Gangloff, he has a stunning voice, rich and warm, and trained on the road. Howell has exquisite, relaxed timing and delicate touch on guitar, and adds another extra dimension with his skills on the mouth-harp. Gangloff plays as a cat might with a ball of string, his arms like white-socked forelegs batting at the sky, somehow in perfect control, and always having fun with it.
Acoustic (completely acoustic, not a mic or pickup in sight) music demands the levels of passion and mutual respect on show tonight. If the Black Twig Pickers roll into your town make sure you catch them whatever the weather.