The Ballpoints @ World's End Pub, Brighton 29.09.12
Whilst not the best run event in the world, REES Rock Saturday in the World's End Pub provides an entertaining evening of raw, live music from some very talented unsigned musicians. All of the bands tonight are young in the fact that none of them are really seasoned pro's on the live scene. Despite this all of them put on a very good performance, overcoming some of the negative issues basically created by poor management at the event.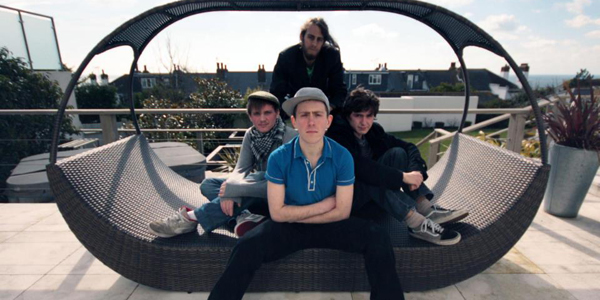 First up is
Throne
, who start off as a two-piece, with a female lead vocalist and an acoustic guitar player as accompaniment before the former takes over both duties. One thing is clear right from the off, this is a very good female vocalist, with the highlight of the short set being a touching Amy Winehouse cover. The one thing seriously lacking in this performance is confidence. Of course it is difficult for anyone to get up and open a pub's evening entertainment, but the vocalist needs to just show a bit more confidence in her ability, because it's certainly there.
Whilst not initially the plan because the organisers managed to lose a band,
Heavy Petting Zoo
hit the stage next and once they kick into drive you wouldn't think this was their first outing as a three-piece after originally having four members. Their performance contained a great energetic feel that quickly turned them into crowd favourites despite a short set. Launching into tracks from their recently recorded EP,
See You In Hell, Candy Boys!
, it is clear that this is band with a lot of talent and a real desire to prove what they can do. Despite not being mic'd the drums are loud and provide a thunderous backbone to the performance as Heavy Petting Zoo deliver a real grunge and punk influenced sound with some really raw and passionate vocals, and some great solos to break it all up. The band are unfortunately cut short despite shouts from the audience for one more, but it is clear that they have the talent and attitude to make a real impression so watch out for them on the Brighton music scene, and potentially beyond, in the future.
Next up are
Digo
, who despite looking a little overcrowded in the small corner of this pub, comfortably deliver a very well oiled professional performance. The easiest way to describe Digo is simply to say they are a very good rock band. Each musician on the stage really gives something to the performance and you can see a great chemistry between them. The guitar work especially was the highlight of the performance as they provided some great intricate interplay and some emotive solos. Listening to their demo, alongside this performance, it is clear this band may have a bright future.
The final band of the night is perhaps the most eclectic of the lot. Whilst this is already an eclectic collection of different bands,
The Ballpoints
are able to bring several different genres and musical influences all on their own, but whilst that may sound strange or damaging, they actually do it very well. If you haven't checked this band out before the best way to describe it is a fusion between hip hop and rock with a very strong underlying funk attitude. This band is definitely funky and fundamentally great entertainment. The live show is energetic and the band has a 'great in-your-face' type approach that really adds another dimension to the performance. You should certainly make an effort to check them out should the opportunity come about.