Temple Songs @ Birthdays, London 10.10.13
Temple Songs threatened to burst out of Birthday's basement on Thursday, bringing their indefatigable chord progressions and roaring reputation to Dalston in honour of their impending second single 'I Can't Look After You'.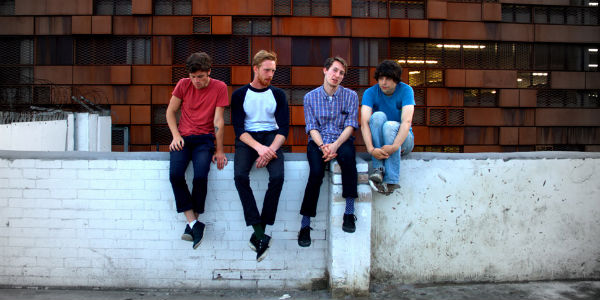 Only a few months ago Manchester's
Temple Songs
were something of an unknown entity. Their self-professed label waiting game has witnessed them steadily garner interest instead through a string of small-scale shows - teeming with those helplessly hooked on the their debut offering. 'Passed Caring' is just the basis of Temples Songs however, as, addictive as the track may be, there are a number of different elements in their psychedelic pop styling's that make them an attraction.
Frontman Jolan Lewis harbours a voice that is, rather frustratingly, effortlessly captivating; with just enough guttural presence to ensure it peaks above the driving rhythm of the band. A perfect example is aired in Temple Songs' opener, the aforementioned 'I Can't Look After You', with Lewis' vocals stop-starting allowing for intermittent swinging guitar lines before everything crashes together forming the bolstering chorus.
London's own
Whistlejacket
took to the stage prior to this, serendipitously converting another audience as spiraling songs like 'Shimmer' and 'March Hare' were etched into the backs of onlooker's minds.
More stutter-stopping guitar ensued as Temple Songs' digital gem 'Magick With A K' bounced through the now stifling, stuffy basement. Relentless, ferocious drumming from Andrew Richardson twinned with vocal harmonies make for an enthralling listen and sheds light on some of Temple Song's recent Beach Boys comparisons. It's a moment of light-hearted, laid-back musicianship compared to what was in store for the rest of the night, but added versatility to Temple Songs' opening gambits.
Purposefully broken solos, erratic breakdowns and sluggish vocals characterise the in-betweens of their set, comprised of tracks selected from their impressively lengthy catalogue of unreleased material. As discordant as this sounds, there's something unexplainably rhythmic about the entire performance. No matter how adventurous the breakdowns are, everything comes together simultaneously and Temple Songs are straight back down to business.
Temple Songs even manage to make early 70's Kevin Ayers single 'Caribbean Moon' befitting; their surf-style rendition providing something of a set highlight and a great bridge into the latter stages of the gig.
'Passed Caring' is soon on the agenda and goes down as their most recognisable set-choice, given the feedback from the crowd. Their first single is instantaneous on record; the three note looping riff over a backdrop of a hammering rhythm section grips from the off and has undoubtedly warranted a lot of re-playing since it's release. It's edgy live-performance-esque recording means it isn't hampered in an actual live setting, as Temple Songs drew to a close their short, stomping set in fashion.
Their songs are fast-paced and at times seemingly effortless, but Temple Songs have something about them that leaves them imprinted. Some of the songs making up their set won't come in over three minutes, but will have changes in direction and rhythm, added harmonies and a solo chucked in for good measure. It's something that definitely keeps things interesting whilst proving Temple Songs are still building on their live show – enough reason to attempt to keep up with them.