Swimming / Poppy Perezz / Fixtures @ The Louisiana, Bristol 24.11.11
Some bands are better than others. Some bands seem better than they are until they are held to account by their superiors. Some bands surprise you. Everything is relative. A band can earn your respect or they can think themselves above you and then lose it. Ah well, some of this has something to do with tonight's gig, some of it probably doesn't. Some bands simply blow you away.
Nov 24th, 2011 at The Louisiana, Bristol / By
Cloudrunner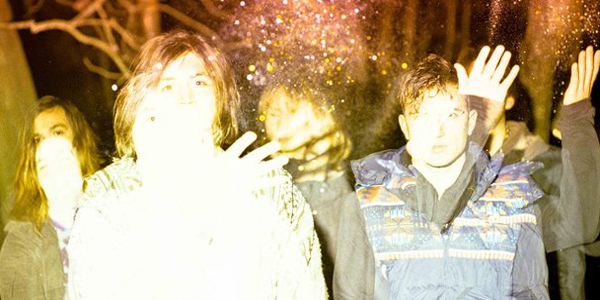 Fixtures
are a classic example of a band that rightly have all the exuberance of youth, and clearly believe they are on to something good. Passion is indeed a fine quality, yet it can be misguided, and leave you, as an observer, stuck on the wrong side of the fence. If its angles you are after - then don't rub the corners smooth. If it is maths that floats your boat, don't make it all so easily divisible. Make pop infectious. Give rock an edge. We may have got off on the wrong foot here, for there is much to admire, and a lot of good ideas in an engaging enough set, but some of these ideas are executed with inexperience; drums are placed rather than nailed, fractured guitar parts bleed out and have to be soaked up with a heavy blanket of conflicting effects. Credit must be given to the bassist for staying right in the groove, and to the vocalists for trusting in themselves and getting all that passion across, thus turning cynicism into intrigue, and dare I say, enjoyment.
Poppy Perezz
have been transplanted from a Caribbean resort. At times they are laughably Disney, cringe-worthy even, yet bags of charm and slick musicianship turn this into a surprising and genuinely different performance. Singer Poppy Villiers-Stuart is the right kind of slightly mad, making her cutesy vocals and restrained dancing a reason to smile and not scorn. Guitarist and synth player Pablo Perezzarate (see what they did there) is a musician to whom execution is key, he knows what he wants and he knows how to get it, his professionalism is matched by his rhythm section, who add all the pops and shuffles needed to truly globalise the sound of this intriguing outfit. Yes, at times it is almost childlike, but never childish, imagine that the Teletubbies moved to Mexico and started an electro-pop band, we'd all be hooked. Unpretentiousness is a real asset to a band's hope of engaging an audience, this, coupled with the fun they are clearly all having on stage, makes for a very happy crowd indeed.
Swimming
tick so many of the right boxes that summing them up concisely is a difficult task; seeing is believing. There is an intellectual and artistic heart that pumps pure ecstatic joy to psychedelic limbs. Songs rise and fall, empirical empires, each and every one. The truth is out there, in the desert sands, in the bug on a leaf, and yes, in the wide and deep ocean too. Swimming are aptly named. John Sampson is a very talented vocalist indeed, his voice adds yet another texture to the rich tapestry of hybrid drums, glorious pop-prog synth, post-rock guitars and clean, on-the-button bass. Backing vocals make the songs even more expansive, melodies collide from all around, but always hold their own. The sound is spherical, and luminous, a globe; this is their beating spiritual core, the very essence of the trip, the channelled hopes and fears of a generation, surface accessibility, deep rooted collective boundary pushing that kills fear and leaves only hope. Ride the waves of 'Panthalassa', from debut album
The Fireflow Trade
, bliss out to tracks from new LP
Ecstatics International
like the chiming, indie-killer 'In Ecstatics', the prog-ballad 'Kid Global', the punchy 'Neutron Wireless Crystal', 'Fire At Blue Point' is like the 80s never happened and have started today, presided over by a government of angels… the list goes on. Swimming are a new frequency, stay tuned.