SSION @ XOYO, London 23.06.13
US disco hipsters SSION, the band and the art of the indisputably awesome Cody Critcheloe, played a storming set of their very best at XOYO last weekend. Don't miss them when they return to London on the 30th for the final show of their UK tour!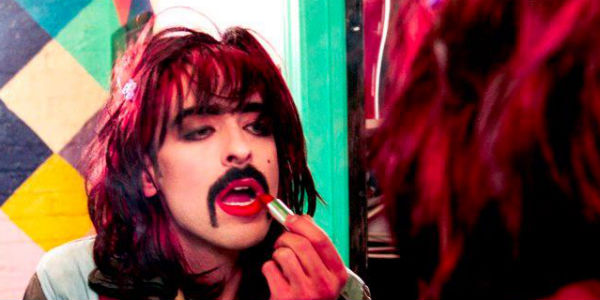 Looking back, the set was great, really great. The songs were amazing as ever, Cody's voice sounded perfect, and we danced ourselves into a stupor. I guess I just expected something
else
, something
more
. Perhaps I had this idea that
SSION
would bring a wonderful array of US weirdos and club kids to play strange instruments and dance around aimlessly (if that's the case, I was, subconsciously, seriously underestimating how much a band get paid for a short club tour overseas.) Or perhaps I was expecting the whole set to be more live band and less backing track orientated (again, clearly not taking their costs into account.) Basically, for whatever reason, I expected a miracle, because Cody
is
miraculous, a striking, almost anachronistic enigma who simply oozes cool, queer disco. Cody has mentioned in previous interviews that he'd love to release a record on a major label, and although heartbreakingly it's hard to picture (it's difficult to believe that greater society has evolved enough to appreciate an artist like him,) it's really easy to see how SSION would shine with a nice, big touring budget for props, quirks, gimmicks, freaks, extra musicians and the like.
But anyway, to the set. The band opened with 'High', a slow, hazy disco stomper that suited beautifully the dingy basement atmosphere of XOYO. The band have recently released a video for 'High', a strange conceptual journey from hell to heaven with some amazing imagery that you should definitely check out (see below for links.) It wasn't until the next tune, the seedy future gay underground classic 'Luvvbazaar', that the live drums really added a noticeable heaviness to the otherwise minimalistic live set-up.
Then one of the highlights, latest single 'Listen To The Grrrls'; this was one of a couple of moments where we really knew we were at a SSION gig – Cody's burst of energy (it seemed clear that this was one of his favourites to perform) combined with the driving dance beat and a subtle dash of imagery on the video projector made for a killer performance of this killer tune.
The set continued to shuffle through SSION's trademark blend of grooving disco and upbeat electro. 'Earthquake', the first single from SSION's remarkable altpop masterpiece
Bent
, pushed everything into a sexier place, with hips, dips and lips aplenty. 'My Love Grows In The Dark' was one of the few songs that really needed that extra live energy to push it from 'pretty good' to 'frickin' great', and 'Clown', the only song that I recognised from their 2008 album
Fool's Good
, was the glorious Culture Club replica (in a really good way!) that we'd all grown to absolutely adore.
The last two tracks really got us, though. 'Psy-Chic' glistened and gleamed with heavy electro pop sophistication; it sounded simply incredible. Then Cody came into the audience to sing and scream along to the filthy, almost soft goth-esque 'Feelz Good (4-Evr)', marking the set's second moment of utter brilliance.
As I say, looking back I suppose it was a pretty fantastic set, but there was just a little something that wasn't there. Although the live drums occasionally added flavour, we both couldn't help feeling like we didn't get a huge amount more from the SSION live experience that we got from the records.
And then there was the audience. It goes without saying that SSION's music and Cody's presence fit perfectly, knowingly or otherwise, into London's hip queer underground, and so naturally the audience looked remarkable. There were weird and wonderful outfits everywhere, a gathering of unashamed misfits, and in comparison SSION actually looked quite tame. The pleasant surprise at discovering the 'Clown' video online, falling in love with the band's aesthetic and immediately noticing that Cody was one-in-a-million at an individual level was overshadowed, in a way, by the awe-inspiring brilliance of the audience who had gathered to see them.
When push came to shove though, nothing could take away from the music. It stands on its own as solid, neo-classic pop music: gritty, fragile, sonically androgynous, driving, grooving, seedy, camp, cruel, comforting, and reminiscent of many of your favourite 80's artists. If you're London-based, get to the final show of their UK tour at Birthdays on the 30th – you clearly won't regret it.
Check out SSION's video for 'High' alongside others HERE. You can find SSION's last two albums and singles on iTunes, Amazon and all good online music stores.