Soccer96 @ Green Door Store, Brighton 24.03.12
Electro duo Soccer 96 have been orbiting the proverbial music radar for a couple of years now. With a blinding show here, and a radio appearance there, they have built up the reputation of a force to be reckoned with. It was with this in mind, that a packed house of hungry followers headed down to Brighton's Green Door Store for the launch party of their long awaited debut album.
Mar 24th, 2012 at Green Door Store, Brighton / By
Richard Guy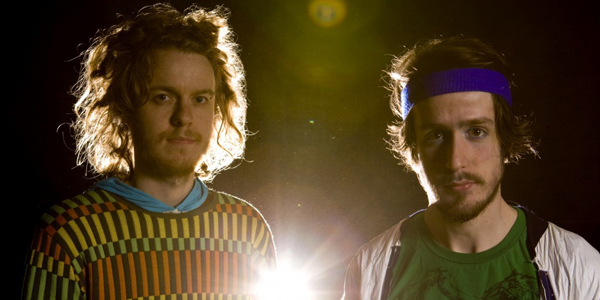 Drummer Max Hallett aka Betamax's skill is apparent from the word go, as he begins the show with the kind of all-out assault fill that would leave Spinal Tap shaking in their boots. There is however nothing over the top about his style and for the most part it is his blisteringly tight beats that provide the perfect platform for synth and vocal maestro Dan Leavers aka Danalogue to do his thing.
Whilst there is certainly something computer game-related in their influences, this only really manifests itself in the track titles and at times the awesome visuals that accompany the show. Sound wise, there is not a bleep or for that matter a Gameboy-esque sound of any kind to be heard. Instead, the sonic arsenal on show is made up of an array of sweeping synth pads courtesy of the classic Roland Juno 6 and some deliciously dirty bass lines, emanating from what looks like an original SH-09. Far from being a gimmick, the decision to use classic analogue synths gives them an authentic sound rarely heard in electro music these days.
Opening track 'California' is the perfect introduction to the duo's sound, beginning with a nice rolling pad and edgy beat. It quickly drops into a break that gets the fans moving instantly, and dusts the cobwebs off anyone who thought this was going to be anything other than a brilliant set. In general they are at their best when they slip into a groove, and elsewhere highlights include 'A Call To Arms' with its punkier vocals, and of course 'SuperWarrior' with its swirling arpeggiated lead and disjointed beat giving a briefly sparser feel to proceedings.
With a live show like this, and an album about to drop, it really could be day one week one for
Soccer 96
. As potential future festival favourites, hopefully they will be able to harness the momentum they will get from the impending release to catapult themselves to the success they certainly deserve.