Soap&Skin @ Scala, London 11.04.12
At a mere 21 years old Anja Plaschg's project Soap&Skin displays an unsettling emotional connectivity, "so serious" did one audience member utter during a break in the set. Her performance at London's Scala was both generous in length and emotive depth, and for all the anonymity of her stage presence - her face visible only when she sang, else turned from the audience as the stage remained a haunting black throughout - she is affectingly visceral in both the sparseness of her classical compositions and the overwhelming chaos displayed in her electronic experimentations.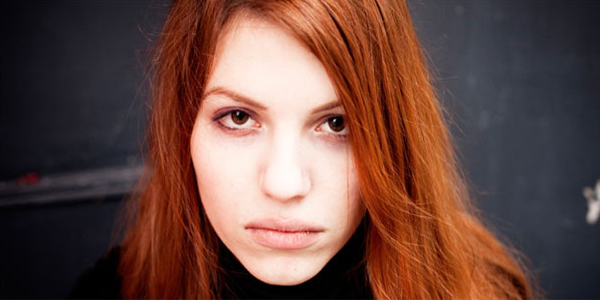 Her recordings, 2009's
Lovetune for Vacuum
and this year's
Narrow
, were chart toppers in her native Austria, and while starkly beautiful and hauntingly honest they only hint at the intensity of her live arrangements. Plaschg embodies a fragility marred by a darkness at times disturbing and threatening. For set opener 'Deathmental' she would make an apt cameo in a European horror as her static form is caught at intervals by strobe lights as she stalks the blackness engulfing her, while contemplative numbers such as German language 'Vatar' for her late father, are steeped in a poignancy and grief that would almost be lost in translation. Too her music is comprised of a disparate assemblage of sounds; the cataclysmic clatters of dense synths are coupled with a steampunk melee of mechanical clunks and metronomic tickings which add a certain gothic quality to her classical leanings, at other moments found recordings echo in the space between songs.
Seated at a grand piano, left of centre; a string quartet behind her; these eulogies of loss and death are removed of their macabre centres, at times romanticised by the lilting piano chords met with the chill of violins and thunderous vibrato of cello and double bass. Much of the set remains entrenched in this style yet towards the close industrial sounds emanate from Plaschg's laptop as she flails centre stage, reaching upwards in anticipation of musical climaxes as if orchestrating these sounds from the tips of her very fingers.
As a performer she teeters between apprehensive artist and accidental performance art; her body either stock still or passionately embracing each note, while vocally she is offering whispers, shouts, screams, guttural utterances: never more chillingly than on 'Spiracle'.
Whispering thanks as she appears for a second encore to overwhelming applause, she as much astounded by her reception as her listeners her performance, she covers The Velvet Underground's 'Pale Blue Eyes', fitting for the fact that Plaschg has so readily been coined a modern day Nico. In offering a reimaging of such stark beauty it stood testament to the soul with which Anja's art is imbued. Alone on a pitch black stage, only her vibrant hair and milky pallor illuminated, this was the performer at her most vulnerable: vocals quivering, arms clutched to her chest, she encompasses all of the emotion she projects from herself in her own songs through this injection of herself into a cover. Extinguishing an imaginary light and shrouding the stage in darkness, she vanishes into the black leaving a hypnotised audience transfixed, staring at an empty stage as an instrumental continues to swarm.