Sŵn Festival @ Various Venues, Cardiff 20-23.10.11
Now in its fifth year, Cardiff's answer to South by Southwest is going from strength to strength.
Oct 20th, 2011 at Various Venues, Cardiff / By
Huw Thomas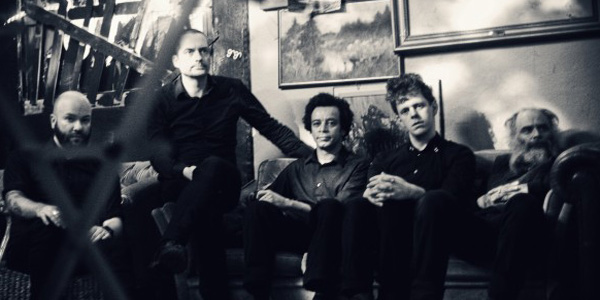 Full disclosure: this is in no way a comprehensive, or even particularly organised, account of
Sŵn
. Rather it is the personal experiences of one man being blown hither and yon by the winds of fate over four music-packed, and fairly booze-fuelled, days. As such, it will hopefully capture the gloriously chaotic beast that is Sŵn. You have been warned.
Things kick off on Thursday night in the pleasingly shabby environs of a room above an Irish pub. First up are
Elephant
, who unfortunately struggle to replicate their ice-cool recorded sound on the live stage. There's also the fact that the synth line from 'Assembly' sounds distractingly similar to Rod Stewart's 'Do Ya Think I'm Sexy', which probably doesn't help.
But Thursday belongs to
Aidan Moffat and Bill Wells
, who pack 10 Feet Tall with what feels like an above-capacity crowd. For an act unusually concerned with death, drink and meaningless sex in grimy pub car parks, it is a surprisingly celebratory affair. The show is a perfect riposte for those who routinely dismiss Moffat as some kind of uber-miserablist. He takes misery to such an operatic level that it somehow becomes uplifting, if only because it proves that there are people out there who feel worse than you.
Friday's opening salvo comes from Cardiff's own
Brandyman
. Their wilfully abrasive racket – think Iron Maiden fronted by Mark E. Smith – gives the early arrivals an enlivening sonic kick in the teeth. They are followed by
Skull Defekts
, one of your reviewer's festival's highlights. Their brutally simplistic, two-chord punk clatter might not sound great on paper, but it certainly does on stage. You expect them to do something different, maybe throw a third chord into the mix, but their gleeful refusal to do so elevates them into something special.
Later on, things take a turn for the bendy with a glitchy but nonetheless pretty banging set from
Seams
and a barking, bare-chested, bass-driven performance from
Stay+
(formerly known as Christian Aids, fact fans). They provide the perfect soundtrack for some 'tired and emotional' festival goers as Saturday bleeds into Sunday.
Following the exertions of the previous night, you couldn't ask for a better palate cleanser then
Dots.Filmband
. Playing live scores to a series of short movies, the three performers wrangle synths, guitars, flute and even an amplified bicycle frame into some welcomingly soothing soundscapes. That the show takes place in an actual cinema, complete with comfy seats, is merely the icing on the cake.
The Jim Jones Revue
couldn't be more different. Their sharp-suited, be-quiffed retro rock and roll recalls the 'party at all costs' attitude of Rocket From The Crypt. They are also blisteringly, punishingly loud. Normally something to be celebrated, the volume actually works against them on this occasion, obliterating what little subtlety their enjoyably bone-headed songs possess.
Sunday begins with
Olympians
. Sporting a nice line in knitwear and self-deprecating stage banter, they are a cheerfully unclassifiable prospect. Melding almost folky vocal harmonies and music that is both jaggedly erratic and immensely catchy, they look like a band who could soon be playing much larger venues. With a song called 'You Don't Have To Be a Prick To Work Here, But You Are' they also snap up the coveted 'Title of the Festival' award.
As the dusk starts gathering, a combination of fatigue and days of over-indulgence result in a little late-festival hysteria. Thank heavens then for the indecently entertaining
Gideon Conn
. Knocking out oddball, white-guy hip-hop about electrical pylons on acoustic guitar, he raises smiles and applause in equal measure.
Sŵn ends, for this reviewer at least, with
Theo
. Live looping layers of electric guitar before sitting down to hammer holy hell out of a tiny drumkit, he's someone who has to be seen to be believed. Though the formula might be expected to get a little tired, Theo continuously confounds expectations by coming up with beats that fundamentally alter how the music sounds. Whether or not you appreciate Theo's raucous, double bass drum heavy tunes (and you should) he makes for a hypnotic live performance.
As Sŵn winds up for another year, there is the undoubted feeling that it is an event really hitting its stride. While earlier outings sometimes felt more like a series of gigs taking place at the same time than an actual festival, there was a palpable sense of cohesion this time around. Famously dreamt up after a visit to South by Southwest, 2011 saw Sŵn take a big step closer to its inspiration.