Sissy & The Blisters @ Hoxton Bar & Kitchen, 04.10.12
A personal review by Tommy Monroe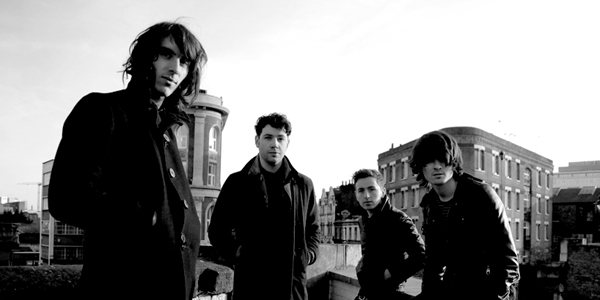 I love
Sissy & The Blisters
and I think everyone else should too. What's not to like about a band who write incredible melancholic post-punk like it's 1979, but are as young, energetic and pissed off as you are in 2012? I've seen them a handful of times, and I imagine it's similar to how it felt to see a young Joy Division progress on the path to greatness. I really think they're that good. Tonight though, I was left concerned that the surrounding industry is moving too fast for them.
Before I get to Sissy though, the support deserve honourable mentions. Opening band
Victor Talking Machine
sounded a lot like a British Weezer, with some well-crafted geekrock tunes and an intelligent understanding of pop structure. I was also excited that their name may have been a reference to Neutral Milk Hotel's synthetic flying machine.
It may sound patronising, but they had
potential
. The music was pretty good, but visually it was like watching kids perform in a village hall – there was no chemistry, no stage presence and almost an embarrassment eminating from the group. I'd be interested to hear them on record, but the live show has a way to go.
The following band
Grass House
were a 6/10 band, undoubtedly better than average but something I felt I'd heard way too many times before. The singer had a fantastic voice reminiscent of Julian Cope and Nick Cave, and opener 'Wild and In Love' was a great tune with a stunning vintage sound, classic vocal harmonies and a Morrissey-esque sense of humour: the title is repeated in the chorus with a well-executed monotonous unenthusiasm. It was a promising start, but I switched off soon after – the songs merged into each other too easily and nothing else really caught my attention. The sound remained equally strong, but the songs lacked clarity and failed to make an additional impact. Again, it's well worth checking them out on record, I imagine they'd be strongest here.
I was genuinely excited for
Sissy & The Blisters
, like teeny-fangirl excited. This is pretty weird considering that I know them personally enough to realise that they're not untouchable musical entities, they're my age and they're unsigned. Still, I genuinely believe that, on the strength of just two or three songs, they have written some historic material.
As they took to the stage, I noticed that there were two strangers setting up the guitars. I thought that Sissy might have moved up in the world and employed guitars techs. I was surprised to discover that these guys were the new guitarists, but didn't immediately realise how much this would impact upon the band's live show. I don't know whether the change was recent or established (it's been a while since I last saw them), but it was a completely different dynamic – the band looked uncertain, awkward and far less energetic, and I can't pretend this wasn't a disappointment. Sissy had always been a live band from my perspective, and suddenly the tables had turned – there was nothing to be taken from the performance.
Granted, 'We Are The Others' was sung with the conviction and aggression it deserved, new single 'Killing Time' is a beautifully written song which was a joy to hear, and 'Let Her Go' is undeniably a modern classic that had me grinning stupidly from ear to ear the whole way through, but I couldn't help realising that this new incarnation of Sissy was not the band I had grown to adore.
This all boils down to one main issue that extends far beyond my personal experience of the performance: a concern that the music industry might be leaving them behind. The last time I saw them, about a year ago, they seemed on the road to success. They had industry interest, an ever-expanding fanbase, and their performances were nothing short of exceptional. It may be simply that they have been forced to take a few steps back with the departure of the guitarists, but there was something about the band that seemed less up-to-date. In an industry so fickle, I was concerned that the band had missed their first chance and would have to wait for the industry cycle to come back around and embrace them again. This might not be such a bad thing whilst the new members adapt, but it's a shame when they write such good songs.
It's not easy on anyone when band members part ways, and I sincerely hope that in time the band will begin to gel better and return to their previous form, but on Thursday night a spark was missing.
If you're unfamiliar with Sissy & The Blisters, I implore you to download 'Let Her Go' and 'Killing Time' IMMEDIATELY and bask in their juxtaposing, ultra-melodic, punk rock glory. Then get excited about the fact that they're about to record their debut album. Then see them live, and get excited about growing alongside an incredible young group. If you're familiar with them already, it's going to take some time to grow familiar with them again and will be interesting to see how their songwriting changes with the new members, but I truly believe and hope that it'll be worth it.