Sic Alps @ The Lexington 04.07.13
North London gig hotspot The Lexington was graced by the effortless cool of American garage rock on Thursday night, as Sic Alps arrived in the capital mid-way through their European tour.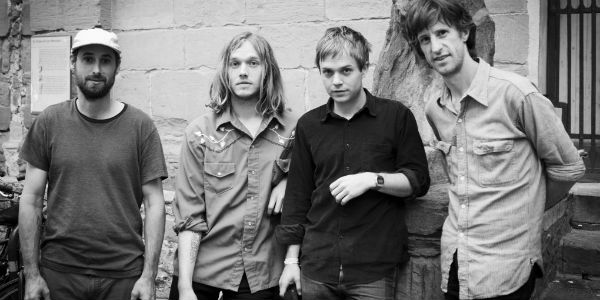 Sic Alps
are one of those outfits that are achingly difficult to keep up with in terms of their back catalogue. With a slew of releases on everything from vinyl to cassette stemming right back to 2004, being up to date with the cult-rockers' progress is no easy feat. A recent switch to label Drag City brought about their fifth LP
Sic Alps
and playing songs from this, as well as those of old, Sic Alps narrowed it down to an energetic and spirited 45 minutes for the London audience on Thursday.
One of the positives of having such voluminous musical pickings is the fact that there's much to choose from when writing up a setlist and it was a song from 2011's
Napa Asylum
that got their first UK shows in two years underway. Starting as they meant to go on, quite possibly the only way Sic Alps know how to go, 'The First White Man to Touch Californian Soil' fuzzed and roared the gig into life.
Leaving just enough time for spectators to appreciate each song, 'Wake Up It's Over II' was soon up with its rougher-than-Hendrix 'Hey Joe' feel, momentarily slowing down proceedings.
What was noticeable is how Sic Alps differ from many of the other bands they are often lumped in with genre-wise. Categorically, attaining tags such as 'garage rock' or 'lo-fi' can pigeonhole any group and often limit how wide a band's music is received, such is the nature of the aforementioned genres. At the summit of the Sic Alp's musical prowess however, it's abundantly clear that they are able to call upon well practiced musicianship spanning different genres, despite holding down a rough around the edges sound.
There is undoubtedly a 60's beat influence in their live sound that is partly masked by the self-induced sluggishness, but as if vicariously reliving their retrospective channels, it was mid-set that their 60's stirrings were most prominent. Straight-edged plodding bass lines from Tim Hellman on his teardrop style instrument and halted chords during the likes of 'Bells' from frontman Mike Donovan were then brought to a head with a rousing rendition of The Who's 'The Seeker.'
As the musical rollercoaster that is their set raced through the better eras of guitar music, good responses to songs such as 'Massive Place' characterised the togetherness of the group as Donovan was free to roll around and emit any sound he could conjure from his guitar as the rest of the band carried the songs to crescendo.
Thankfully, even Donovan snapping a string during closing song 'Nathan Livingston Maddox' didn't halt the journey. He casually hopped off the stage as his rhythm section carried on undeterred, lulling the audience in to a come down from the previous set's ups and downs.
Here's hoping it isn't another two-year wait until they land on these shores again.