Sissy & The Blisters @ Boileroom, Guildford 17.09.11
We've been fortunate enough to know Sissy & The Blisters from their conception, and it has always been clear that they're going places. From debut single 'Things May Change' to forthcoming release 'Let Her Go' on independent darlings Fierce Panda, the songs have been consistently excellent and the band have been consistently interesting. Watching them progress (and christ have they progressed) has been a pleasure, and this, the first gig of their Autumn tour, proved that this was only the beginning.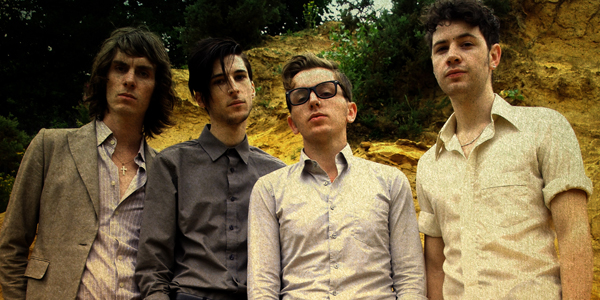 After reasonable support from
Cossacks
, formerly 'Three Seeds In Paris', who are definitely one to watch in the future having just returned from a year's hiatus,
Sissy & The Blisters
treated us to a whirlwind set of modern punk rock'n'roll at its very, very best. Setting the scene with the A and B sides to 'We Are The Others', released earlier this year, vocalist James Geard was eerily reminiscent of a young Ian Curtis, with a threatening air that constitutes a delightful rarity in modern indie artists.
As the set continued, everything just got better and better. 'Got No Home' from the soon-to-be-released
Let Her Go'
EP was the first of a barrage of aggressive and acute lo-fi gems. The new material sounded admittedly more user-friendly but by no means detrimental, quite to the contrary, rather showcasing the band's ability to write classic 'modern vintage' indie tracks to a pretty formidable standard. Title track 'Let Her Go' pushed this standard further still, and stood out as the set's, and undoubtedly the band's, finest moment to date. The track was still performed with the ballsy energy of the others, but as their current press release unashamedly confirms, it had "our mouths forming a 'wow'", transcending a great set to a faultless one.
During their final tracks, including video debut 'The Wolf, the crowd echoed Geard's unabashed lunacy and genuinely expressed enjoyment (another rarity at any gig considered 'hipster'). Elements of The Cramps and early Horrors were undeniable in these closing moments, but rather than being merely reminiscent, these elements were combined to create something that indie music is rather desperately lacking: a really good band.
Catch Sissy & The Blisters around the UK in October and, in the meantime, check out new tracks 'Got No Home' and 'Let Her Go'
here
.