Quack Quack @ The Lexington, London 27.07.10
As far as band names go, Quack Quack has to be one of the strangest out there. Not least because it is so terribly fitting! The onomatopoeic sound that Mallards make out on the river breathes new life as the title of this northern trio, who deal in trip-some instrumental hedonism whilst being easy on the vocals.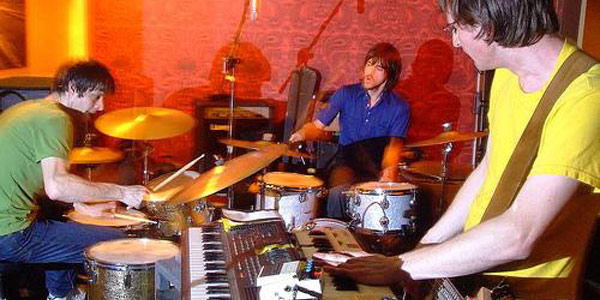 Tumbling into view, and staking their claim to the stage, bassist Stuart seems awkward in his stance, but ready to ricochet their music off the walls, as keys man Richard stands to attention in front of his many keyboards and synth devices and drummer Neil sits calmly before the audience.
All at once it begins, and we are whirled into a tech and torrid tune, at once calming and rousing, with Neil conjuring all his strength to keep time and pace with a hidden metronome. He is spot on. We are told later that this was a tune called 'Perpetual Spinach'! It is clear that this is a trio who do not follow the crowd, but rather run away in an altogether new direction. Whilst they keep to their own quarters, invisible lines drawn on the stage, there is a definite sense of crystal understanding between them. They vibe off each other in a way that is hard to find, and cannot be artificially created.
With the first two songs done, a technical issue (the replacing of some D batteries) clears the path for Stuart to hit the audience with some of his personal brand of patter. Asking anyone if they have ever had to buy or had issues with D batteries, they launch into a song which is rather fittingly named 'D MotherFucker D'. A personal favourite, you cannot help but notice the staccato rhythmic flashes intertwining with rolling drums.
The avid lack of lyrics is refreshing. It is great to find a band who let the music speak for itself. The freewheeling and yet painstakingly crafted riffs are sharply intersected by what would be the chorus, if lyrics where employed. At other times, with such songs as 'As Slow As An Eyeball' slide from tangent to tangent, employing the elements of free jazz to conjure images of a drug fuelled hazy night in downtown Chicago.
Quack Quack certainly put on a great show, and no matter how big or small a crowd they play to, no one can resist the catchy tunes. The lyric-less meandering through a whole history of jazz, funk and new age sounds really captures the buzz of what it is to make great music without worrying about what it is you are trying to say. It speaks for itself. Definitely one to watch, ladies and gentlemen. Keep your ears out for Quack Quack!