Pulled Apart By Horses @ Electric Ballroom, London 23.02.12
Never has the term 'aural assault' seemed so apt. An hour long set from Leeds' current greatest four-piece equestrian-rockers at Camden's illustrious venue The Electric Ballroom, tore apart a crowd who seemed intent on doing such a thing themselves anyway.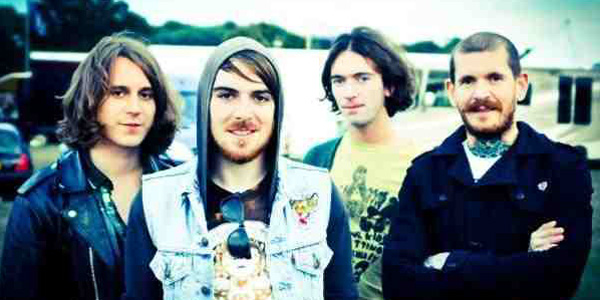 Beginning with fan favourite 'I Punched A Lion In The Throat', lead singer and guitarist Tom Hudson starts as he means to go on: by having a good old roll around on the floor. Steaming through songs mostly from the new album
Tough Love
('Wolf Hand', and 'Romance Ain't Dead') - released barely a month ago - the quartet seem intent on breaking something, be it their instruments or bodies, purely for the amusement of the spectators. However, this approach doesn't detract from how obvious it is that the members of this band have become spectacularly tight over the past two years or so: indeed better musicians too, which is evident to anyone who has listened to the new record.
First album's 'Get Off My Ghost Train'; a song inspired by a friend's encounter with some carnies and their dispute over his right to be on the closed fairground ride, is a stormer of a song, concluding with Tom and James Brown (lead guitarist) stating that they each have "such a boner" at the fieriness of the crowd. New album's lead single 'V.E.N.O.M' is astounding live, Tom screaming as if his aforementioned manhood depended on it. 'Epic Myth' ("The architect that built this house, made secret rooms no-one knew about // With every floor's another maze, once you're inside you'll never leave") is delivered in frenetic fashion, rhythm section Robert Lee and Lee Vincent pounding out stomping bass lines and throbbing drum rhythms and fills. Fantastically puerile humour continues, Hudson mentioning "My flies keep coming undone… if anyone sees a one inch chipolata crowd surfing, come see me afterwards," and indeed it is the last song 'High Five, Swan Dive, Nose Dive' which sees the two guitarists inside the horribly sweaty throng that have congregated for this noise-fest. The set concludes with support band 'The Computers' arriving onstage with huge 'ticker tape' cannons, each spraying the crowd with glittery confetti.
For the encore, the guys arrive back onstage to rapturous roars and a few empty beer glasses heading their way; in a friendly way, of course… Ending with the self-titled debut album's 'Den Horn' and its pounding, half-time ending, with all of the spectators collecting in a single heaving mass, it seems that PABH have both concreted their status as one of the best live bands around at the moment, and that this evening at The Electric Ballroom could not have been a better way to end their UK jaunt.
Pulled Apart By Horses
are back (were they ever away?), they're bigger, tighter and they're noisier than ever.
Pulled Apart By Horses Links