Pontiak / Invisible Ships @ Ramsgate Music Hall, Ramsgate 06.05.14
Hirsute US neo-psych rock trio on mesmerising live form
May 6th, 2014 at Ramsgate Music Hall, Ramsgate / By
Sam Slattery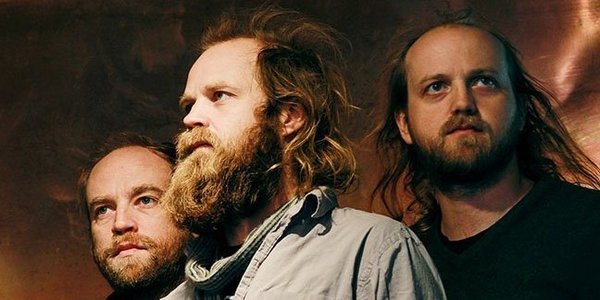 A Tuesday night, the wrong side of a bank holiday, may not seem like the perfect evening to have ones skull crushed between the twin sonic strikes of American neo-psychedelic rock three piece,
Pontiak
- and heady local support band,
Invisible Ships
- but, for those who love their extreme sports, maybe it is completely apt - especially as the Ramsgate Music Hall is beginning to make its name as a place that hosts a wide variety of internationally emerging, and established, indie artists - a much needed shining beacon of light and hope, in this often musically barren area of the South East.
The majestic
Invisible Ships
take to the stage, to an anticipating round of applause. The pre gig music fades out, and within seconds this polite, reserved four piece are infusing the air with thick, rich textures of poised sound; tight sturdy drums and rock steady bass just about anchoring double guitar and vocal assaults from kidnapping all souls present, and spinning off into another dimension.
They blast through a sumptuously dark, euphoric performance - made up of sparky originals -including current singles 'Lucy Dream/Acid Tide' and a pleasing Lou Reed cover. Finishing their set, and after self depreciatingly thanking everyone for coming to hear their 'racket' - members of 'Ships announce that "Pontiak are good - really good - really loud. They're going to melt your faces. We're just here to singe them, first".
Following a short intermission, when the audience get a chance to nurse what's left of their facial features, the epically bearded
Pontiak
(each member displays a fecund amount of facial hair that would give Will Oldham a run for his money) rush onto the stage with boundless excitement, enthusiastically hooting and yelping, greeting the audience with raised beers, and friendly shout outs of "Hello Ramsgate! Thank you for coming out to see us!", before taking up their instruments of darkness - and getting straight down to business.
What seems an immeasurable amount of time flashes by in a thrilling, heart thumping, head pounding blur; some of the subtleties in their songs, usually heard from the safety of a stereo (or similar listening device), are put out to pasture, tonight as they slide from one song to the next, with rarely a pause, almost creating the effect of one long track that is buzzing with relentless wild spiralling slabs of guitar shifting across cataclysmic bass lines, titanic drums-and tri-vocal assaults, whose crackling Iggy-Morrison textures are only given the rare chance to fully breath when, for one or two numbers, the trio get instrumentally softer-and sparser.
Tucked firmly in this whole pleasing blitzkrieg, are versions of 'Wild Fires' and 'Ghosts', from their current album
Innocence
- as well as one or two songs from their pretty diverse back catalogue, including 'Royal Colours' from 2012s
Echo Ono
.
Originally players in the Baltimore music scene, siblings Van,Jennings and Lain Carney came together as Pontiak in 2004 and first started releasing their wares on Fireproof Records, beginning with 2005's
White Buffalo
EP, before switching to Thrill Jockey for
Maker
in 2009.
"More-more-more!" large sections of the audience chant, rhythmically-two beats after they bring their set to a triumphant close. "More-more-more!". Pontiak stand, for a second, sipping their drinks - and mock discussing what to do, before grabbing their instruments and, summing inspiration from the gods, ripping through two more songs.
Following their encore, Van Carney puts down his guitar, gulps the last of his beer, and ventures into the crowd to shake almost every spectator's hand and thank them personally for coming. It's a nice touch to an electrifying gig!