Pissed Jeans @ Electric Ballroom, London 05.07.13
Pennsylvania noisemongers live in London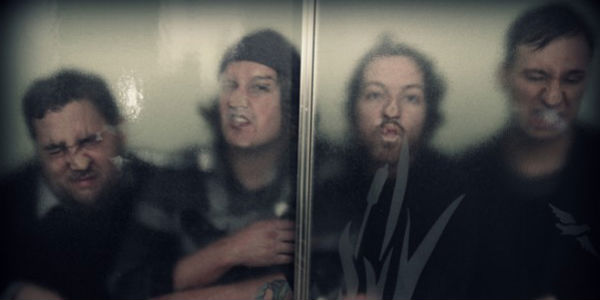 The Electric Ballroom isn't really the best way to see a band like
Pissed Jeans
. The Pennsylvania noisemongers are one of those bands that shouldn't be allowed to transcend small, claustrophobic basement sized venues for fear of the visual impact of their live show being diminished.
Over the course of four albums (including this years
Honey
) the band have plowed the kind of atonal, chaotic punk rock that is straight from the heart of the U.S underground. Think Poison Idea, Mudhoney and, most notably in sound and spirit, The Jesus Lizard and you would be close to the kind of dissonant screech that
Pissed Jeans
lay down on record and the noise that emanates from their CD's (or records) can't help but fuel excitement for the mental image of what the band's live show might be like to witness.
Tonight, however that image never materialises. Dwarfed by the Ballroom's venue size its really only the first few rows that get to experience the primal rage of the band. For those at the back all that seems to be on show is lazy Amphetamine Reptile pantomime as frontman Matt Korvette writhes and twitches like a Poundland David Yow without any of the danger or demented unpredictability of the legendary Jesus Lizard frontman..No song titles or introductions are needed as the band drag each shrieking, cacophonous blast of white noise into each other. Guitarist Bradley Fry bullies his way to the front with the sheet metal tone of his guitar, overpowering Randy Huth's bass completely. It's another example of the Electric Ballroom always disappointing sound system, a sound at times so frustrating it can put a music fan off from ever wanting to see their favourite bands play there.
While the band score points for berating the crowd with boasts of the night before (in Leeds) being so much better than tonight, there is a momentary wonder of when the playful between-song teasing stops and goes into something more bitter. Is indifference part of the show tonight or are Pissed Jeans generally annoyed at having to play a bigger venue when the original surroundings of Dingwalls (just up the road) would have been a much better room to experience Pissed Jeans' sonic assault.