Phantom Limb @ Latest Music Bar, Brighton 03.03.12
Touring off the back of well received new album 'The Pines', country soul outfit Phantom Limb have been bringing a taste of the deep south to venues across the UK.
Mar 3rd, 2012 at Latest Music Bar, Brighton / By
Richard Guy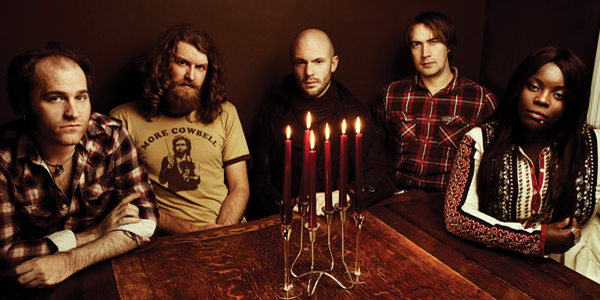 Every once in a while a voice comes along that not only stops you in your tracks, it beats you round the head until you forget exactly where it is that you are. Lead singer Yolanda Quartey not only possesses such a voice, she uses it with such passion that even she seems to forget where she is from time to time. Carrying enormous power, coupled with a subtle beauty and a gritty depth, she projects an energy across the entire show which will not easily be forgotten.
Given the authenticity of their sound, it is initially surprising to learn that the band hail not from sunny Mississippi or Memphis, but from Bristol in the often rather wet west of England. They have however obviously used their time spent with Marc Ford of Black Crowes fame to build a backbone to their sound that is truly genuine. Dominated by acoustic guitar and organ, and augmented by some classic lead playing from guitarist Stew Jackson alongside Quartey's immense vocals, they make their way through a set comprised mainly of new material.
Unusually it is the opening track of the night that brings one of the more melancholy moments, 'Tumbling Down' is a slower more contemplatory take on the genre than the majority of the material and provides something of a toe in the water for the less familiar faces in the crowd. Characterised by a rolling tom beat and underpinned by a deep bass line, the space in the music gives room for Quartey to give an early glimpse of the dynamic range she is capable of.
Title track from
The Pines
gets an early airing too and brings with it a more danceable energy, as does lead single 'Gravy Train' which has a classic blues edge to it and a vocal melody that harks back to the glory days of northern soul.
If a criticism had to be drawn, you might accuse them of playing it a little safe at times. And certainly to achieve the crossover success of peers such as Morcheeba or Massive Attack they will have to broaden their horizons somewhat. However, there is absolutely nothing wrong with sticking to what you do best, and
Phantom Limb
are clearly in their element delivering it.
They end the show with a flourish of a perhaps somewhat impromptu jam that leaves the crowd cheering into the night. If you get a chance to see Phantom Limb now or in the future do it, what they are doing now is great and the potential for their future development is truly exciting.