Perfume Genius @ St Pancras Old Church, London 14.05.12
"Maybe we should start this one again, it's short enough and it's just these three chords like all the other songs", Perfume Genius' Mike Hadreas jokes at a midset stumble on a rendition of 'Perry'. It speaks volumes about the 30-year-old Seattle based artist before us. These are, for the most part, simplistically arranged and feather light compositions, expounding the kind of on-the-edge-of-your-seat personal outpourings through a quiet falsetto, faltering with a sincerity of emotion at each utterance, that they are near impossible not to be moved by. As for the setting of St Pancras Old Church, it adheres perfectly to the stifled traumas of Hadreas' past. There is an air of confessional in these details; at moments hushed and quavering, while at others, in contrast to the pianist's spoken word, almost assured.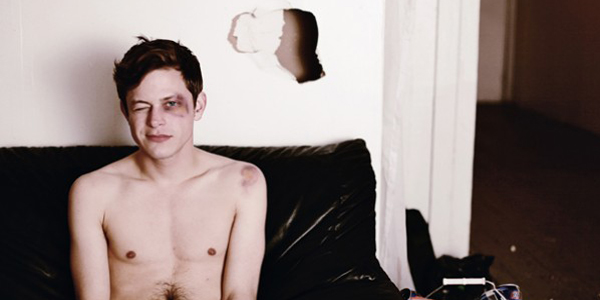 Opening with the ethereal dual vocal of 'Gay Angels', merely a swarm of choral harmonies and hazy synths,
Perfume Genius
, now a live three piece owing to the assistance of long term touring partner (and more recently boyfriend), Alan Wyffels on keyboard, alongside Eric Corson on drums and guitar, move through a set just shy of an hour and yet rich in material. While the musical sparsity that typified his early work remains, as does the shortness of their soul-bearing, with few tracks reaching over the 3 minute mark, Hadreas' sophomore release
Put Your Back N 2 It
displays an experimentation with drums over synths, adding a dramatic quality to numbers such as 'Dark Parts', 'Hood' and the pop hooks of 'Take Me Home'; the latter translating as a far dourer affair than the bouncing melody of its studio counterpart. In these moments it's easy to see the musical confidence of the trio gaining momentum; the piano trills more intricate, the vocals more prominent; less afraid.
Never is this emotion more unguarded and plaintive than on 'Mr Petersen' or '17', each a frank account which is met with a quiet that falls over the audience and is only momentarily broken by a flurry of applause, during which Hadreas deems it safe to nervously utter his appreciation. There is little change to the precocious, human manner of the slight figure onstage from that revealed in his initial shows two years previous. And while he takes nearly half the set to be considered at ease with his position in front of the sold out London crowd, and as much as his performance rests on this balance between self exposure and introversion; an endearing quality to this awkward presence which is as important as the songs he shares; there's always a hope that he'll be able to crawl further out of his shell next time.