Offset Festival @ Hainault Forest, London 04-05.09.10
Set in the rural grounds of Hainault Forest, Offset Festival brings the best in indie, electronic, and post-punk music to round off the great British summer. As an Offset virgin, Bearded is pleasantly pleased to have it's cherry popped over this inebriated weekend. Fortunately, one's memory serves well enough to tell you the highs and lows of London's glorified boutique festival. On entrance, it immediately features one of the best ideas for a festival ever – a car park NEXT to the camp site NEXT to the arena. Fucking genius!
Sep 5th, 2010 at Hainault Forest, London / By
Sam Kelly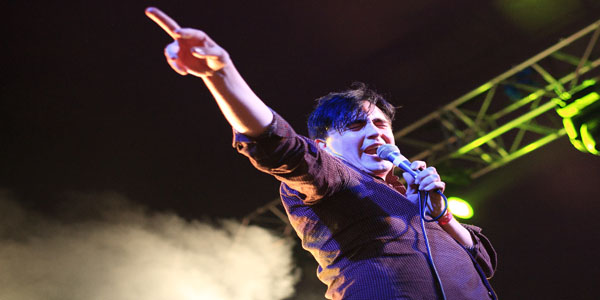 Obvious highlights of the stylish line-up include
Mystery Jets, Caribou, Mount Kimbie, These New Puritans
and
Atari Teenage Riot
. Aside from the main acts, Shoreditch weekly event Trailer Trash have brought their own Miami Beach Party to the festival, for "People who like to get their bump on 2 dirty funk filled bass lines and electro beats..." which turns out to be an awesome little after party!
For a smaller sized festival, there's an enormous amount of choice, and with over 180 acts one can't help but be baffled by the sheer amount of artists on show. With a total of 6 stages, there's no time to squalor at the lesser appealing acts. In fact, the weekend feels more like a constant search of rapture, but it's not a disappointment, the eclectic line up more than satisfies.
Less than 2 hours after arriving, one fellow camper, a posh little VICE runner, has already nipped into his tent to change into a perfectly pressed, stylish sailor number… In fact, Offset is perhaps the only respected music festival that has an onsite vintage clothes store!
Whilst
Egyptian Hip Hop
play through an impressive set, they seem somewhat similar to Foals, though perhaps a little less agitated and slightly more rigid. The full tent fabricates a vibrant atmosphere, and at times it's full of angst. They certainly win over the crowd – apologies, the individuals.
Teeth
follow with an infectious set, and singer Veronica So rallies the horde, jumping in and crowd surfing amongst the hip devotees. Despite obvious similarities to Crystal Castles, there's more diversity amongst Teeth's set; in contrast to the punk nature, it boasts moments of a calmer disposition, like CC on sedatives.
We dully watch
Lovvers
perform, but they don't seem to have any indiscernible style. Its kind of rock, kind of a dull Libertines…
On the Mainstage,
Art Brut
frontman Eddie Argos wades his way through the crowd like a messiah, preaching about Van Gogh. They're a scruffy bunch, and unlikely heroes for a stylish indie event. They're more like 40-year-old dad's that heeled out just the right amount of geek to make it cool with these kids. Nonetheless, it's an exciting and engaging performance.
Mystery Jets
later headline, and their set-up conjures an unusual mirage of being on a 50's cruise ship. Unfortunately, they sound weak, and the performance is sloppy. Furthermore, the sound guy pretty much ruined it for their opening few songs; the vocals disappear at random, and the levels are generally all over the place. Halfway through however, they get it sorted, and start looking and playing more comfortably. Their set really tightens up, and new song 'Serotonin' gets an affectionate response.
A slight drizzle of rain ushers everyone into the Loud and Quiet tent in time for headliners
Telepathe
. Whilst musically impressive, there's an undeniable desire for some spontaneity washing around the tent. Visually it's rather dull, and it all seems a little too formulaic and planned.
There are a lot of industry schmucks preying around the festival, eyeing up the potential talent, and it's certainly here to be gawped at. Unfortunately though, there's a lack of other activities going on during the day. It does offer a small farm with a few animals, but its rather feeble, and there's not much else at all.
Hype is flying around
These New Puritans
quicker than you can say their name, yet after several listens and a live performance, one still fails to see just exactly why. Even the crowd here seems uninterested and unperturbed by their performance.
Esben and The Witch
perform an intense, mesmerizing set, with a mass sound of tremolos echoing throughout the enclosed aérien. If there's one thing Offset boasts more than other festivals, is its overwhelming sound systems in every stage, shaking whole bodies in unison.
Vision of Trees
perform in Offset Presents and attract a small crowd, yet after seeing them twice already, one really feels they deserve more. They're an awesome live act, incredibly intriguing, and it's so nice to see Joni using live electronics rather than a computer. They really are exciting to watch, and vocalist Sara now profoundly commands the audience. Definitely a band to watch for the forthcoming year!
After waiting over an hour for
Caribou
, we head to White Heat to catch headliners
Mount Kimbie
. They draw a niche gathering, but everyone here avidly digs the music. The electronic duo drive the heavy bass into the ground, whilst splashing samples around, throwing out repetitive beats and flinging a haven of percussive, electronic soundscapes into the collective. It's a fascinating set, and one has high hopes for the future growth of this band.
In the flailing hours of Sunday night,
Serge Santiago
perform in the Trailer Trash tent. Everything's sexy, and everything's hot. There's no search for that something deeper, it's just feel-good, heavy dance music.
As we walk through the campsite late on Sunday, the sight pretty much sums up the festival as a whole. It looks sparse. Everyone's already packing up their tents, and putting them in the car so they can drive home after the night's pursuits. It just seems so wet. It's the pansy of all festivals. Most here aren't prepared to slum it for the music and festival experience, not even for 2 days. It's more of a weekend fashion parade, and Offset has created the perfect boutique outing for all these tame "creative's." Fortunately, the music on offer is as stylish as it's attendants.