Of Montreal @ KoKo, London 06.10.10
Starting earlier than was to be expected, and breaking us in with the dark and drawling 'Black Lion Massacre', Of Montreal dive head first in to their hefty set, showering us with the wealth of their years and experience on the music scene.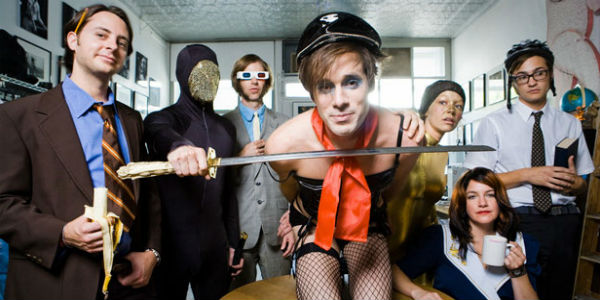 Keith Barnes, all dolled up in a bandana, purple leggings, kaleidoscope skirt and sexy white boots, twists and jives in a manner, it becomes apparent, which does not cease until the last strains of the last tune can be heard. All the while, their stellar cast of musicians and dramatic-folk cast a spell all around us, with sights and sounds that have you tumbling down the deep rabbit hole, KOKO being the perfect theatrical setting for such a foray.
Famous for their re-generation of style, in the vain of Doctor Who (as he disappears into the Tardis, only to emerge fresh faced and ready to tackle another daemonic guise), the collective that is Of Montreal fail to disappoint, affecting white clothing and painted white faces, giving a hint of the Polyphonic Spree, whilst carving scenic and synth-laden trails in the air. Coquet Coquette, an offering from their latest album 'False Priest', is thick with 80's glamour, and a touch of the epic Spaghetti Western themes ingrained within American culture, Barnes emits a touch of the neurotic as he admits "I don't want to catch you with another guy under your eyelids". This is an image which is at once powerful and tragic, summing up in one swoop the deep lyrical content and hedonistic rhythms which characterises this collective. It is a sweet pathos that works in harmony with the joy they create with every slam and tinkle on the keys, every rolling drumbeat, revelling riff and synth part thrown into the mix.
All the while, we are treated to bizarre circus sights; pyjama'd primates ambling into view, dancing a while before divesting themselves of animal trappings and becoming abstract human chequerboards, then diving headfirst into the crowd, and surfing a wave of hands as faceless sparkly red devils. Interacting with Barnes, play fighting and carrying him aloft like a trophy as they barrel through half their set before you can even make sense of it all. With more than just a hint of Adam Ant, the erudite frontman "Mmmm-ahh"s his way into the perky 'She's A Rejecter', shifting his pitch at a lightening pace, from shrill to deep dazzled and sexy. Of Montreal seem to have got the right balance of new debuted tracks and old favourites with this set, zipping between the well known 'The Party's Crashing Us', from 2004's release
The Sunlandic Twins
and the newer, cute electro 80's 'Sex Karma'. Throughout all this the pace picks up, and the madness never ceasing as their last track 'The Casualty of You' ends in a rising crescendo, with one of the musical collective taking his guitar on a trip into the crowd, to finish the song surrounded by fans.
Proceedings take a weirder turn still, as the encore ramps up, and we witness two straight-jacketed individuals let loose on stage and becoming unravelled, accosting Barnes, and spending the last bars of their ender 'The Past Is A Grotesque Animal' rolling on the floor in a perverse mockery of mental illness. In short, a freaky and fruitful lesson in the bizarre, complete with amazing and challenging tunes which defy expectation live, as much as they ever do on any of their many albums. Amazing and awe inspiring, and with such a wealth of wit and intelligence behind the group as a whole, and Barnes on his own, it's little wonder that they know how to pull your string and get you going. F***ing phenomenal!