Nicole Atkins @ Omeara, London (02.03.18)
On the back of her ace fourth album and backed by a smokin' band, Nicole Atkins gives a masterclass in old-school cool
Mar 5th, 2018 at Omeara, London / By
Ben Wood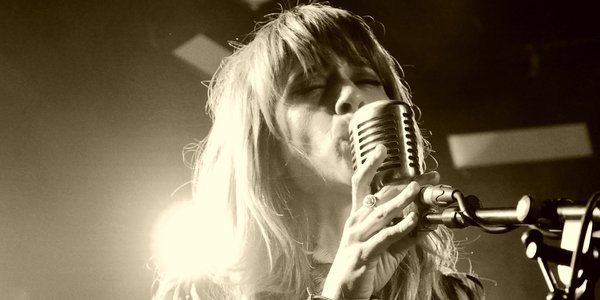 Nicole Atkins
has some seriously dedicated fans. On a day when snow caused the less hardy to abandon their plans and huddle indoors for warmth, a sizeable and well-insulated crowd made its way to Omeara, in London Bridge, to witness something very special.
They had every reason to be optimistic. Atkins' latest album
Goodnight Rhonda Lee
(review) is an eclectic collection of three-minute gems touching on Brill Building songcraft, funky bar-room soul, epic lovelorn balladry and country-tinged laments. These songs are fit to draw comparison with Lee Hazlewood, Roy Orbison or Dusty Springfield in
Dusty in Memphis
mode, and that's pretty good company to be keeping.
Partially co-written with the likes of Chris Isaak and Bad Seeds drummer Jim Sclavunos,
Goodnight...
features Atkins' most direct lyrics to date, with tales of relationship traumas, a battle with the bottle and a tricky move to Nashville, where the well-travelled former New Jersey native slowly made a new life for herself. The album reflects on the mistakes of the past and fights its way towards a brighter future, via eleven killer tunes.
While her older material often cloaked its messages in allusion and metaphor, the new songs tackle matters head-on: direct, diaristic and powerful. Atkins sounds like she's singing for her life, and she seems to have found the perfect live band - tight but swinging, plenty of chops but happy to keep it simple - to translate its mix of styles into a funky, cohesive whole.
Resplendent in 70s boho chic, Atkins opens with a couple of oldies. Neptune City, the moody title track from her debut album, is followed by a slice of Phil Spector drama before the focus turns to the latest record.
We start right in the pocket, the rhythm section excelling with Darkness Falls So Quiet and the ballsy Brokedown Luck, which is boosted on record by sleazy
Sticky Fingers
-style horn blasts.
A Little Crazy, a gorgeous ballad, grows teeth in this setting and sees the band's tasteful, never-a-note-wasted guitarist rock out somewhat. This is deluxe Orbison / Righteous Brothers heartbreak. Around the venue, troupes of female fans sing along, identifying with the sentiments.
The music may be pretty intense, but the singer is charm personified, a raconteur whose between-song banter keeps everyone firmly onside.
There are no self-indulgent longeurs, no pointless soloing. Sleepwalking is a jazzily joyous springtime skip of a song, like Amy Winehouse in a particularly good mood; Colors a heartbreaking cinematic ballad packed with killer one-liners ('
give me a chance or just another shot
').
I Love Living Here (Even When I Don't) echoes the melancholy romanticism of early Tom Waits, while Goodnight Rhonda Lee itself is one of several songs tonight that sound like classic radio hits from another dimension.
Atkins invites the imposing, bearded and suited Sclavunos on-stage for one of the ballads from the duo's forthcoming duets album. Its luscious Bacharach and David feel is followed by the gorgeously floaty swoon of A Dream Without Pain.
Just as everyone is lost in the music, we are hit by a curveball. With around 45 minutes of the set to go, the sound engineer tells Atkins she has just ten minutes left. Pro that she is, she brings out the big guns. Listen Up is uptempo, hook-filled soul-pop ace-ness, while atmospheric closer A Night of Serious Drinking is a delicious reverie.
We got less Nicole Atkins than we should have done... but more than enough to prove that this is one singer who has found her voice and is going from strength to strength. Classy stuff indeed.
Photo credit: Giovanna Ferin