Nick Cave & The Bad Seeds: Manchester Arena (25.09.17)
An emotion-filled night at a capacity Arena as Cave & Co. turn in a stunning, career spanning set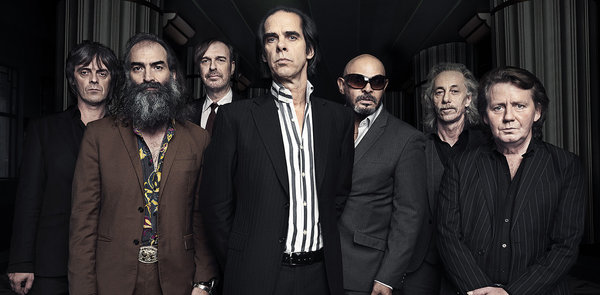 It's hard to put into words just how much of an impact
Nick Cave & the Bad Seeds
had on everyone at their Manchester Arena performance following their huge UK arena tour. You would think a smaller, intimate space would be more fitting for the band to really feel the intensity of their energy and power as performers, but they didn't need it. They made Manchester small and not a single person could take their eyes off Nick Cave.
First the Bad Seeds entered, picked up their instruments and started to play their front man onto the stage, building the anticipation and impatience of the crowd. Finally, slowly yet gracefully he walked into plain sight, making his presence finally known. The myth, the man, the legend was real and now we would hear Nick Cave speak.
The event felt marred by tragedy on a personal and public level, there was tragedy at the premature death of his son Arthur and also by the tragedy of the Arena terrorist attack. Yet Nick Cave's appearance was a welcome relief appearing happy, uplifting and inspiring, leaving you filled with love and joy rather than sadness after the show. Cave acknowledged the events that befell the venue and said that we are all very lucky to be here and as tribute to those who lost their lives dedicated his classic song Into My Arms which filled everyone with silence and warmth. It's hard not to feel emotional and moved by Cave's songs, they all speak meanings and messages at different levels, moving through stories, characters, feelings, thoughts and times.
Playing songs from their newest 16th studio album
Skeleton Tree
, such as I Need You, Girl In Amber, Rings of Saturn and excerpts and footage from Cave biopic
Once More With Feeling
; the band sound and feel as musically monumental as ever if not more so. The Bad Seeds played their back catalogue of hits including Higgs Boson Blues, Jubilee Street, From Her To Eternity, Tupelo and Red Right Hand. During songs, Nick Cave would actively interact with fans, reaching out from beyond the elevated stage to touch the hands of the crowd, like a preacher during a sermon at a Gospel service, singing directly to fans, forming a one on one connection with them, that made his performance that much extra special and personal to watch.