Naomi Punk @ Ramsgate Music Hall 07.02.15
Saturday nights can be a bit rubbish, let's face it; they're like the equivalent of the New Years Eve of the week - when there seems to be a collective conscious anxiety to be out and about doing something 'fun'-anything - or at least pretending to, rather than being stuck to the sofa, watching yet another round of mind numbly depressing variety shows on the idiot box.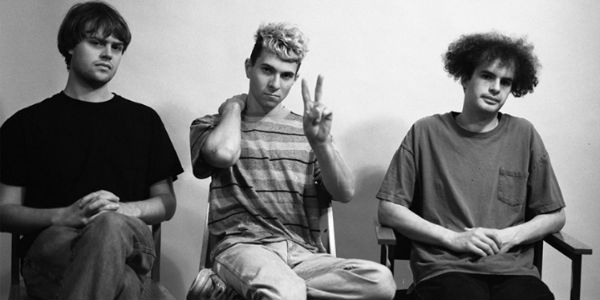 Thus, it is all too easy to fall into the well trodden track of blowing a fair wedge of one's hard earned cash, attempting to blot out a largely crap evening catching some second rate covers band in the local dive bar - or getting wasted enough to appreciate shat 'EDM', in a third rate club where the DJ's idea of playing a good set is often unenthusiastically crashing one rubbish tune into another - and then, after finally dropping something half decent, pulling the plug on it midway through the mix. How many times have you wanted to burn down the disco and hang the blessed DJ regarding that one, eh?
Catching a band or two at Ramsgate Music Hall always seems like something a little bit special, especially when seeing an act you love, and even when experiencing something for the first time.
Washington trio
Naomi Punk
, currently on their US/UK tour, are certainly a refreshing break from the old routine; it's a shame, in a way though, that only a small contingent have come out to bear witness, this Saturday night.
London four piece,
Cut
, pave the way for the following festivities, with their psychedelically tinged strain of garage rock, that pleasingly straddles the line between The Ramones, Black Rebel Motorcycle Club-and The Only Ones, to name a few. In this euphoric maelstrom, there is barely a pause for breath; even when the band finish and head off into the crowd, their amps continue singing for a moment or two... and the air fizzes with anticipation of what's next.
The ol' cliché of 'never judge a book by its cover' certainly applies to noiseniks
Fawn Spots
- who at first glance look like a bunch of casually dressed business students – tonight dive machine-head first into their brand of hot punk hardcore; a solid set of calculated intensity, grazes the ears to almost the point of drawing blood, with no buy or leave.
By the time that
Naomi Punk
hit the boards, the small audience are well and truly primed!
Twenty years after his death, and you'd have to have lived under a large block of cheese for the last two decades, to not know that Kurt Cobain still appears to cut an inspirational figure, both in terms of music, and fashion. Naomi Punk's prime vocalist/guitarist looks very much like his younger cousin - decked out in faded denims and lumber shirt, all capped off with an unruly bleached blond barnet. Across their brief, two album career thus far, Naomi Punk have been compared a lot to the legendary Seattle trio (but aren't many bright young things, carrying guitars these days?).
To be a little cheap about it, it's almost like Naomi Punk have harvested the choppier elements of Nirvana, applied them haphazardly to their own strain of grunge punk - and plopped the other mushy lag, that soaked a lot of Nirvana's output, down the toilet – creating a sound that almost makes Cobain's trio look decidedly flabby, in comparison.
On record, their sound is a little cleaner - an element that seems stealthily abandoned live - as all the instruments bleed into each other, as the trio rip into material from their latest release
Television Man
. Indeed, within this environment, a lot of the subtle little licks and ticks, on certain tunes on the album, are lopped off. It's difficult to say which is the best listen - album or live - for it must be said that their jaunty, stop-start (blast of noise) sound is certainly interesting, and is something that kind of beds in slowly, rather than ripping immediate effect.
Against the twin guitar and drum jack hammer assault, the (echoed) vocals in performance, as on wax, become a subtle melodic garnish, more than a solid call to arms, with any content that the lyrics may possibly be loaded with completely compromised because, over all of the songs, they're largely incomprehensible. It's almost like the voice of Mercury Rev's Jonathan Donahue has been kidnapped, and sliced up into the whole mish-mash, with only vague reconstruction.
Just when their sound world is creeping into your groove, it's all over. Naomi Punk finish up, and leave the stage without encore. If that isn't a punk statement, then what is?