Mr B: The Gentleman Rhymer / Ukejam / The Brompton Mix @ The Boileroom, Guildford 23.04.12
Guildford has a talent for turning out tremendous gigs, booking talent that is both random and provoking, and jumbling said nutters together to form some of the most interesting events in your calendar. Tonight's foray into the decidedly non-mainstream world of Ukes, moustaches and rock says it all.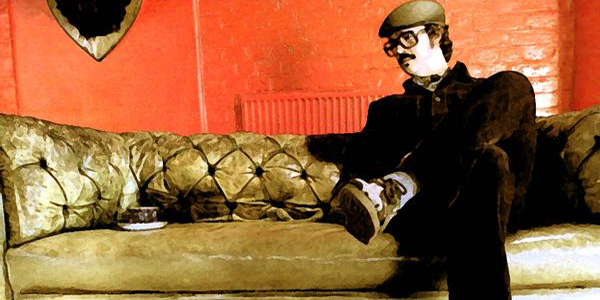 "Hello, we're
The Brompton Mix
, and we play rock'n'roll" lead singer Ben Peppitt purrs into the mic before launching into opener 'Miles Away'. They are not wrong. Hints at Oasis (not the least because lead guitarist Aaron 'Azza' Sergent sites them as a main influence), shucks of Supergrass, and a flash of Sex Pistols bravado confirm these guys know what good British Rock is. With a lasses fair drawl in Peppitt's lyrics, solid licks from stoic bassist Si Gulliver, and effortlessly awesome riffs from Sergent, in tracks like 'Take It Back', you can't help but mark them up there with the Britpop greats that coloured the nineties. Yet given that drummer Chris Baxter comes from a punk background, the whole outcome drives away from this era, giving it a deeper edge.
Ending with the blistering 'King Of The City', breaking down into a heady instrumental which spreads movement like wildfire across the audience, Sergent delivers a stunning performance akin to the likes of Weller, Gulliver's bassline infectiously bubbling up from the speakers. There's no slack moment from any of these guys, its just a shame they couldn't play longer.
In stark contrast with the Brompton brand of rock, next to fill the stage (and fill it they most certainly do!) is the Guildford
Ukejam
. 39 musicians with Ukes, the odd guitar, and a lovely sense of humour fill the air in no time with a collection of hits from past and present, reformatted for the Ukelele and absolutely undeniably amazing! It's a tribute to the Uke that no song can sound depressing when played on this instrument. A rendition of Leona Lewis's 'Bleeding Love' sounds like a sunny refrain from the dreary rain outside! The BeeGees 'Staying Alive' sounds like the Gibbs were on an ecstasy binge when they wrote it. Most people would also turn their music-loving noses up at Jessie J's 'Price Tag', but alas, even that gets a winning return of applause from the elated audience.
Keeping up the banter by confirming for the fifth time this evening that they are indeed "not a cult", father of Ukejam Adam Wolters launches the collective into the finisher 'Hotel Yorba'. As an amazing song in its own right, it has still never sounded better! These wonderful people play at the Royal Oak in Guildford every two weeks. Go fill your ears!
Finally, appearing as if by magic in a hail of facial hair and tweed,
Mr B
arrives to round off the evening nicely. It is as though the evening has taken a tour of Surrey, taking in the county's rougher areas (did I hear Woking?) in which rock's Brompton Mix is founded, moving through the more rural areas within Ukejam, heading through to posh residential areas and cricket grounds of Surrey's finer folk. This is where The Gentleman Rhymer resides. Giving us a little taster of what is to come in the awesome 'Chap Hop History', Mr B doesn't so much spit lyrics, for that would be vulgar, as sends them eloquently speeding round the plum that is nestled in his mouth, safely tucked under his wonderful moustache. A genius word-smith, his adaptations of hip hop hits played on the Banjo and Ukulele, accompanied by pre-recorded snippets, send refined ladies and gents over the edge. Decked out in suits, ties and top hats, giddy with joy, the crowd cheers "rather!" and "cup of tea" in the time honoured fashion. Most notable crowd pleaser 'Straight Out Of Surrey' spurs us on, not least because of our location, referencing the famed NWA track. Solid track references are the gentleman rhymers theme! Sampling the 45 King's '900 number' for 'Let Me Smoke My Pipe' he vocalises on the smoking ban with the tongue in cheek "I'll abide by the laws of your watering holes, but I wont stand in the rain with a pack of ruddy proles!". The refined gent is on the rise as Mr B takes aim at the infamous vicar's son turned 'street' presenter Westwood in the genius 'Whatever Happened to Timothy?'. Laughter ring out at the line "your grammar's appalling and you sound like a guttersnipe street yob". There are far too few songs ribbing Westwood, we're with you all the way! However, the Pièce de résistance of the evening has to be the insanely wonderful 'More Kissing In Porn Please, We're British' for the flagrant use of pornographic sound bites, the simple fairground style tune, and the lyrics "my theory is simple enough, a little more kissing a little less muff". This man can rhyme like no other!
And so, retiring from the stage for the evening, most likely to smoke his pipe and drink a nice cup of tea, we are left pondering our proletariat pints with a wry smile. Thus ends this delightful evening covering a variety of Surrey's finer musical meanderings. A strange one indeed, but we wouldn't have it any other way!