Minor Alps @ Komedia, Brighton 24.04.14
Under the archways on Brighton seafront, the Bermuda Triangle is a fitting venue to get lost in the dreamy folk/pop of Minor Alps. An intimate and charming space, it carries much the same atmosphere as a classic Greenwich Village coffee house. This impression is only reinforced by the support act Seadog's storming set of harmonised classic song-writing that was as timeless as it was refreshing.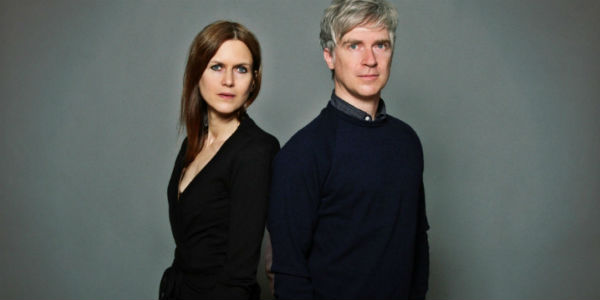 Minor Alps
may well be little known at this moment, but they come with quite a pedigree. Juliana Hatfield of 'My Sister' fame is considered indie royalty through her previous bands, Blake Babies and Some Girls as well as her collaborations with Evan Dando and Jeff Buckley. Meanwhile, Matthew Caws is better known as lead singer in cult grunge/pop rockers Nada Surf.
Despite their disparate and eclectic backgrounds, Hatfield and Caws collaboration has a naturalness and chemistry that belies its newness. They come to Brighton in support of their debut album,
Get There
, a collection of quirky folk/pop songs that has been universally acclaimed.
Get There
has a sweetness and subtlety that is reminiscent of Glen Hansard's side project, The Swell Season with it's interplay of male and female voices and simple but effective production.
As charming and slick as the record is, Minor Alps songs really come into their own in a live setting where both performers punk-informed background becomes apparent. The record's more layered production is exchanged for a simple two guitar strum along with occasional mellotron-style keyboard interventions from Hatfield which adds a dreaminess to the lo-fi ramshackle.
Much of the new album was performed with the rousing and strange 'I Don't Know What To Do With My Hands' and the touchingly melancholic 'Wish You Were Upstairs' particular stand outs. There's a certain fragility in these songs with Hatfield singing of boats on a 'windless ocean' that exemplifies the duo's poetic charms. Meanwhile, 'Waiting for You' brilliantly showcases Caws unerring melodic gifts.
With both artists bringing extensive career baggage to their collaboration it was not surprising that forays into the back catalogue brought the most riotous receptions. Nada Surf fans were certainly out in force and were particularly enamoured by Caws' gentle reworking of the classic 'Inside of Love'. The duo also ingeniously reworked 'Beautiful Beat' with their soaring harmonies bringing a new freshness to an old song.
All in all, Minor Alps are an example of song-writing integrity undimmed by past glories. Juliana Hatfield has lost none of her contrarian cool whilst Matthew Caws' slacker charm is as loveable as ever. Their collaboration already fruitful, clearly has legs to run.