Memoryhouse @ The Social, London 02.07.10
After walking into the Social, albeit a tad late, the second band on the bill, How To Dress Well, was already standing behind Harley's projected screen, opening with an a cappella. Singing to a backing track, it unfortunately appeared to be no more talented than a karaoke performance, and instead, the audience's attention was fixated on the visuals - an intensely warming display of dreamy, antique family VHS tapes from the 70's, or what they should look like.
Jul 2nd, 2010 at The Social, London / By
Sam Kelly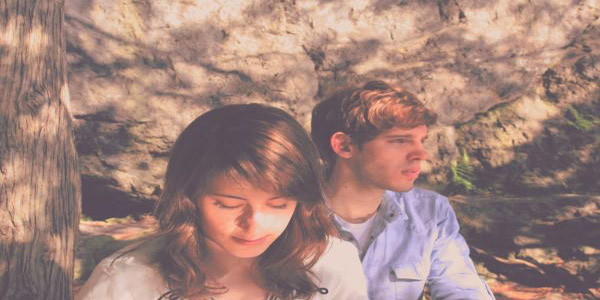 In a sudden charge of vigour,
Vision of Trees
came on and everything began to pulsate and buzz. In one wholesome majestic sweep, their music played from start to finish, never stopping, an endless fusion of hazy ambiance and soaring vocals from a very talented singer indeed. No doubt, Harley's faster paced visuals really upped the ante, as electronic whizz Joni fleeted between effects, enchanting the audience in a hypnotic daze; an incredibly exciting performance.
Whilst
Memoryhouse
set-up, it soon became obvious that Harley was the real star of the show, receiving incessant fan appraisal all evening for his perfect mirage of visuals and sound.
As Denise, Evan and live performer Adrian eased into their performance, Denise's vocals continually wavered in and out of tune, but it really didn't matter. Their music was epic, the visuals even more so, the fact is, everyone was too hyped to care. From constant demands to turn it up and endless dodgy sound levels, the speakers finally began to crackle, slightly overdriven, the layered and textural music created a fuzzy, tranquil atmosphere. Performing tracks from their EP
The Years
, including an upbeat rendition of 'Lately (Deuxiéme)', 'To the Lighthouse' and 'Sleep Patterns', along with a few new ones, their 60's resonating keyboards transported us back in time, but with all the creativity of today's technology.
Denise could've benefited from more reverb on her vocals to take the edge off her voice and diffuse it back into the music, yet one could not help but be enthralled by the mesmerizing beauty of Edi Sedgewick on screen. The imagery evolved into tiny delicate ballet dancers, before light rain drizzled over a Hunter S. Thompson style biker's scene, perhaps offering an enigmatic alternative to his time with the Hells Angels. As the permeating church-like organs arose, producing a mammoth sound, everything had become ethereal, blissed out at the dawn of a new decade; they had the audience encapsulated and bathed in an intense wave of ambience and freedom.