Mark Lanegan @ The Crystal Ballroom, Portland, Oregon 30.10.14
US alt rock stalwart on captivating form in the Pacific Northwest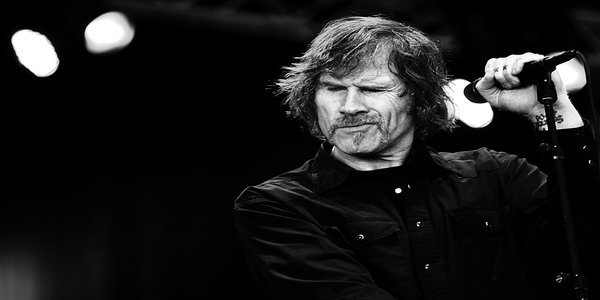 The ballroom crowd is sparse, dark-haired brooding types in tight fitting denim and black hooded sweatshirts. From any angle in the grandiose room, you can see the links of white Christmas lights above the bar, draped around half-filled amber bottles of rye whiskey. Rain falls outside, another gutter-swollen night in the Pacific Northwest. It's a perfect night to step out and see
Mark Lanegan
.
First instinct is to remark on the thin crowd, but when the glowering spectacle in shaggy hair and dark rimmed glasses takes the stage that doesn't matter anymore. Lanegan doesn't put on a show as much as he invites you into the gloomy curio cabinet of his fertile imagination. He tells his stories. His body remains still, poised like a truck stop evangelist at the microphone, tales spun in a road weary tone so vivid one loses any sense of distance with the performance.
Tonight, Lanegan animates a bevy of songs from his new record,
Phantom Radio
. The spare yearning characterized recedes in favour of hard guitars and percussion presence that feels less inhibited. I'm particularly fond of the live treatment of "Harvest Home" and "I Am The Wolf" as expected, but also of "Floor Of The Ocean" a track that lost me on the album, but here, almost sparkles. Notice I said "almost"? When Lanegan delivers, the brightest light backs a bourbon bottle.
In preparation for the show, I watched all the YouTube videos I could. What I gleaned from that was a strong sense of Lanegan as musician, humble in spite of his resume, a post-modern Leonard Cohen type whose sense of himself is beautifully disguised behind a gruff, acerbic sense of self-deprecation. In light of that, I was especially impressed when he called out a front row drunkard. "Get him out," Lanegan barked ironically and the crowd cheered lustily, relishing the pricelessly candid moments spent in the presence of one of a rare, singular artist.